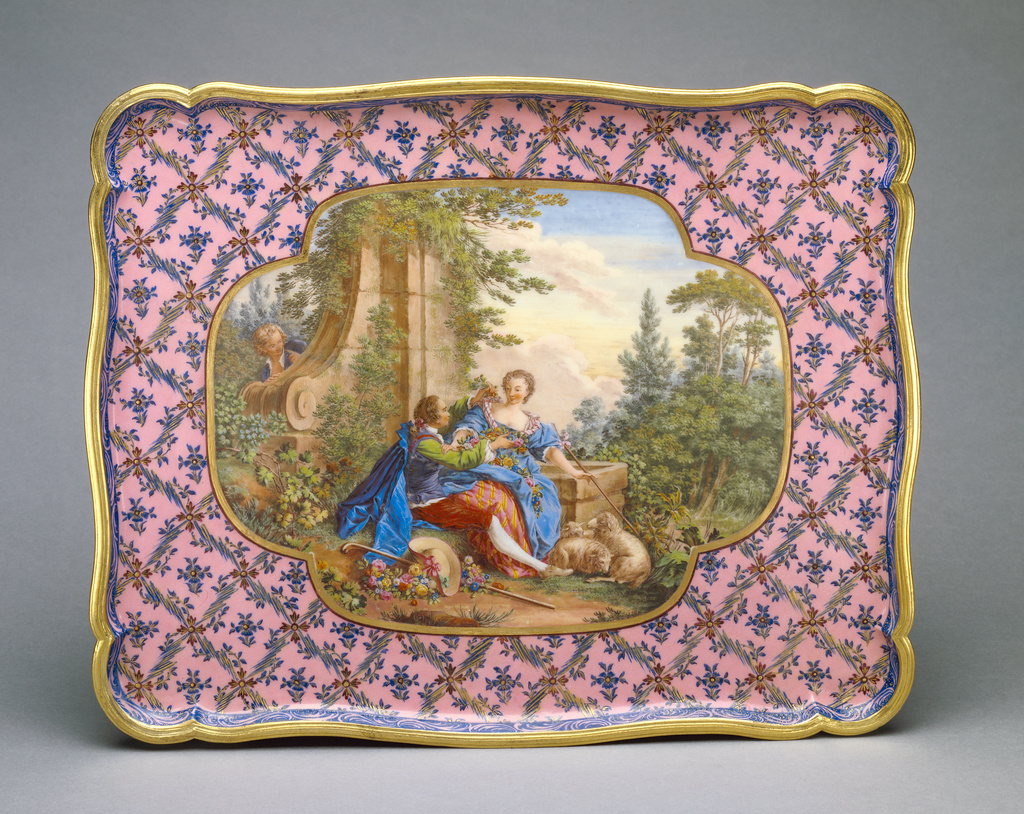 Open Content images tend to be large in file-size. To avoid potential data charges from your carrier, we recommend making sure your device is connected to a Wi-Fi network before downloading.
Getty Center, Museum South Pavilion, Gallery S110
Title:
Tray (plateau Courteille ou de chiffonière)
Place:
Sèvres France Paris France (Place created)

Date:
table about 1900; plaque 1761
Medium:
Painted oak carcass, with a top [removed] of soft paste porcelain, with a pink ground, polychrome enamel decoration and gilding; gilt bronze mounts
Dimensions:
67 × 34.6 × 28.3 cm (26 3/8 × 13 5/8 × 11 1/8 in.)
In 1758 the Sèvres porcelain manufactory introduced this shape, designed to be mounted onto a small table. The manufactory named the form, described in the Sèvres archives as a plateau de Courteille ou de chiffonière, after the marquis de Courteille, one of Louis XV's financiers, who represented the king's interest at Sèvres from 1751.

The Sèvres artist Charles-Nicolas Dodin copied the scene from a painting by François Boucher onto the plaque. The original painting was set into wood paneling above a door in an important Parisian townhouse, the Hôtel de Soubise. It became one of Boucher's most popular scenes in the 1700s, known through many prints that circulated widely throughout Europe.
1893
Possibly Miss H. Cavendish-Bentinck [offered for sale, Christie's, London, March 3, 1893, lot 123, unsold]
- 1913
Possibly John Cockshut [sold posthumously, Christie's, London, March 11, 1913, lot 92, to Harding]
-
Unknown, mounted to a table bearing the false stamp B.V.R.B.
-
Private Collection (England)
- 1949
Rosenberg & Stiebel, Inc. (New York City, New York), sold to J. Paul Getty, 1949.
1949 - 1970
J. Paul Getty, American, 1892 - 1976, donated to the J. Paul Getty Museum, 1970. Plaque removed from table in 1991.
Getty, J. Paul, and Ethel Le Vane. Collector's Choice: The Chronicle of an Artistic Odyssey through Europe (London: W. H. Allen, 1955), pp. 77, 145-47, 167, 171 and ill. between pp. 176-77.
Wescher, Paul. "French Furniture of the Eighteenth Century in the J. Paul Getty Museum." Art Quarterly 18, no. 2 (Summer 1955), p. 121, ill. p. 129, no. 1.
"Vingt Mille Lieues dans les musées." Connaissance des arts no. 57 (November 1956), pp. 76-81, ill.
Verlet, Pierre, et al. Chefs d'oeuvre de la collection J. Paul Getty (Monaco, 1963), p. 118, ill.
Dauterman, Carl Christian, James Parker, and Edith Appleton Standen. Decorative Art from the Samuel H. Kress Collection at the Metropolitan Museum of Art: The Tapestry Room from Croome Court, Furniture, Textiles, Sèvres Porcelains, and Other Objects (London: Phaidon Press for the Samuel H. Kress Foundation, 1964), p. 165.
Getty, J. Paul. The Joys of Collecting (New York: Hawthorn Books, Inc., 1965), p. 148, ill.
Watson, Francis J.B. The Wrightsman Collection (New York, 1966), vol. 1, no. 3, p. LVII.
Huth, Hans. Lacquer of the West: The History of a Craft and an Industry, 1550-1950 (Chicago and London, 1971), pp. 93, 145, fig. 231.
Sassoon, Adrian. "New Research on a Table Stamped by Bernard van Risenburgh." The J. Paul Getty Museum Journal 9 (1981), pp. 167-74, figs. 1-5, 8, 9.
Guillemé-Brulon, Dorothée. "Un décor pour les meubles." L'Estampille 165 (January 1984), p. 28.
Laing, Alastair, et al. François Boucher, 1703 -1770, exh. Cat. (New York: The Metropolitan Museum of Art, 1986), pp. 354-55, no. 97.
Sassoon, Adrian, and Gillian Wilson. Decorative Arts: A Handbook of the Collection of the J. Paul Getty Museum (Malibu: J. Paul Getty Museum, 1986), p. 35, no. 75.
Savill, Rosalind. The Wallace Collection: Catalogue of the Sèvres Porcelain (London: Trustees of the Wallace Collection, 1988), vol. 1, pp. 354-55, vol. 2, p. 812, no. 2f.
Kjellberg, Pierre. Le Mobilier français du XVIIIe siècle: Dictionnaire des ébénistes et des menuisiers (Paris: Editions de l'Amateur, 1989), p. 139.
Sassoon, Adrian. Vincennes and Sèvres Porcelain: Catalogue of the Collections (Malibu: J. Paul Getty Museum, 1991), pp. 162-65, no. 32.
Bremer-David, Charissa, et al. Decorative Arts: An Illustrated Summary Catalogue of the Collections of the J. Paul Getty Museum (Malibu: J. Paul Getty Museum, 1993), p. 54, no. 71.
Wilson, Gillian, and Catherine Hess. Summary Catalogue of European Decorative Arts in the J. Paul Getty Museum (Los Angeles: J. Paul Getty Museum, 2001), pp. 116-17, no. 236.
---