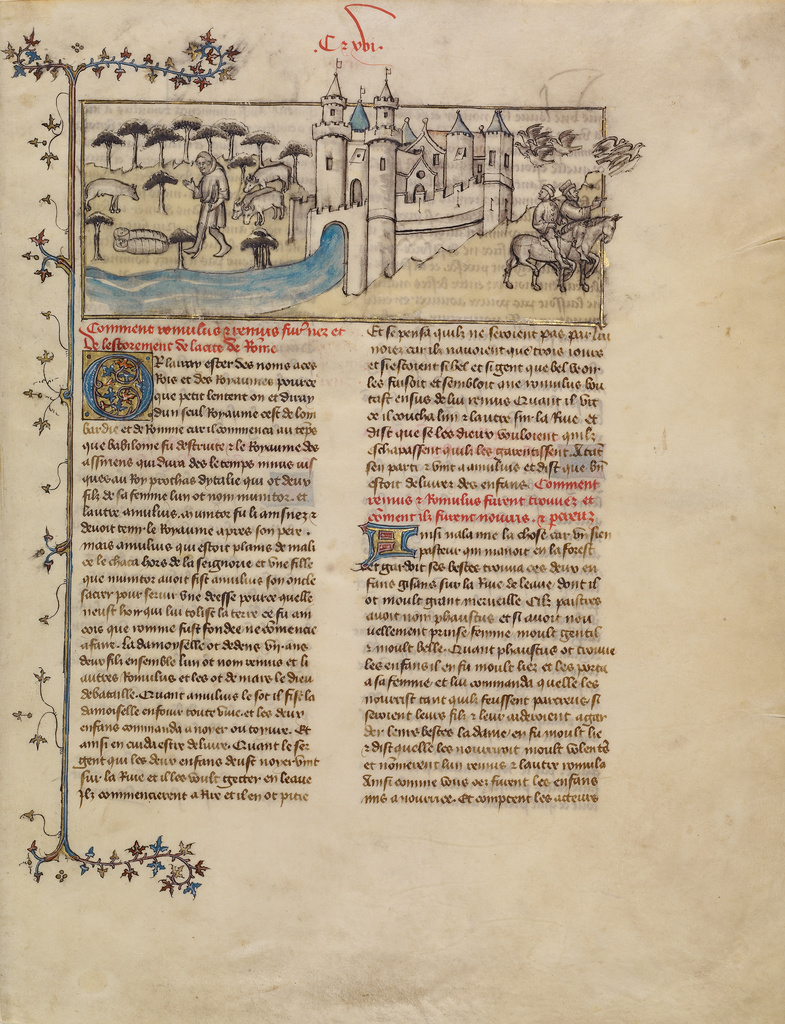 Open Content images tend to be large in file-size. To avoid potential data charges from your carrier, we recommend making sure your device is connected to a Wi-Fi network before downloading.
Not currently on view
Place:
Paris, France (Place Created)

Medium:
Tempera colors, colored washes, gold leaf, and ink on parchment
Object Number:
Ms. Ludwig XIII 3 (83.MP.146.4), leaf 4
Dimensions:
Leaf: 38.3 × 29.4 cm (15 1/16 × 11 9/16 in.)
Object Description
According to Roman legend, Rhea, daughter of the king of Alba Longa, bore the war god Mars twin sons named Romulus and Remus. To prevent the infant twins from claiming the throne, a man who had deposed her father as king ordered the infants drowned in the river Tiber. The basket in which they were placed, however, safely floated down the river and landed at the future site of Rome. There a she-wolf, an animal sacred to Mars, took care of them until a herdsman named Faustulus discovered them. In the miniature, the tightly swaddled twins lie by the side of the Tiber. The she-wolf hovers protectively over them at the left, while Faustulus approaches from the right. The great city of Rome, which the twins will eventually found, stands in splendor in the middle of the miniature, while two men, perhaps Romulus and Remus as adults, hunt with their hawks to the far right.
Exhibitions
Illuminating the Past: Historical Texts of the Middle Ages and Renaissance (February 2 to April 11, 1993)
The J. Paul Getty Museum (Malibu), February 2 to April 11, 1993
Imagining the Past in France: 1250-1500 (November 16, 2010 to February 6, 2011)
The J. Paul Getty Museum at the Getty Center (Los Angeles), November 16, 2010 to February 6, 2011
---