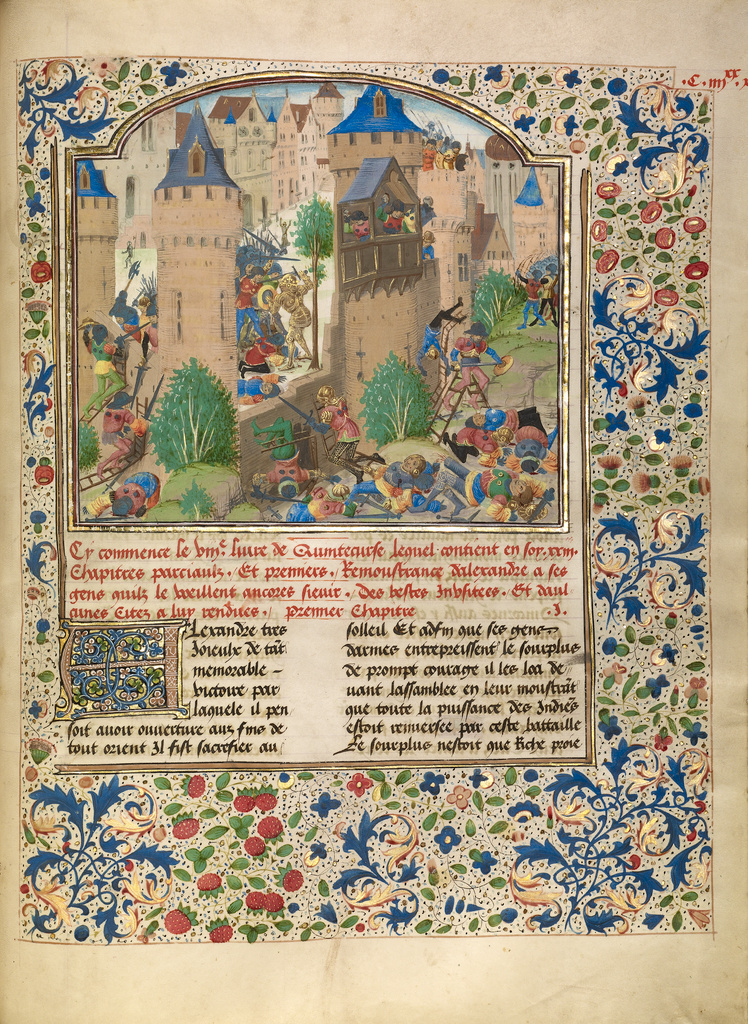 Open Content images tend to be large in file-size. To avoid potential data charges from your carrier, we recommend making sure your device is connected to a Wi-Fi network before downloading.
Not currently on view
Title:
Alexander Fights in the Town of the Sudracae
Place:
Bruges (illuminated), Belgium; Lille (written), France (Place Created)

Medium:
Tempera colors, gold leaf, gold paint, and ink on parchment
Object Number:
Ms. Ludwig XV 8 (83.MR.178), fol. 204
Dimensions:
Leaf: 43.2 × 33 cm (17 × 13 in.)
Object Description
In a suit of golden armor, Alexander the Great battles valiantly in the town of the Sudracae in India. Having foolishly jumped over the ramparts into the enemy city without reinforcements, he must defend himself in prolonged hand-to-hand combat. The illuminator used the device of a cut-away view of the city wall in order to show both Alexander within the town and his army outside, attempting to scale the wall to come to his rescue.

The entire scene is presented in fifteenth-century guise, with the town of the Sudracae resembling a northern European walled city more than anything Indian. Both the Macedonian and the Indian soldiers are outfitted in the battle gear of the illuminator's time, with little attention paid to distinguishing between the two armies, either in weaponry or in ethnicity. This would have given the scene particular immediacy for a fifteenth-century European reader, especially one who himself might be called upon to serve his leader in battle.
Exhibitions
"The Visions of Tondal" and Manuscripts from the Time of Margaret of York (April 17 to July 1, 1990)
The J. Paul Getty Museum (Malibu), April 17 to July 1, 1990
The Making of a Hero: Alexander the Great from Antiquity to the Renaissance (October 22, 1996 to January 5, 1997)
The J. Paul Getty Museum (Malibu), October 22, 1996 to January 5, 1997
Images of Violence in the Middle Ages (December 21 2004 to March 13, 2005)
The J. Paul Getty Museum at the Getty Center (Los Angeles), December 21, 2004 to March 13, 2005
---