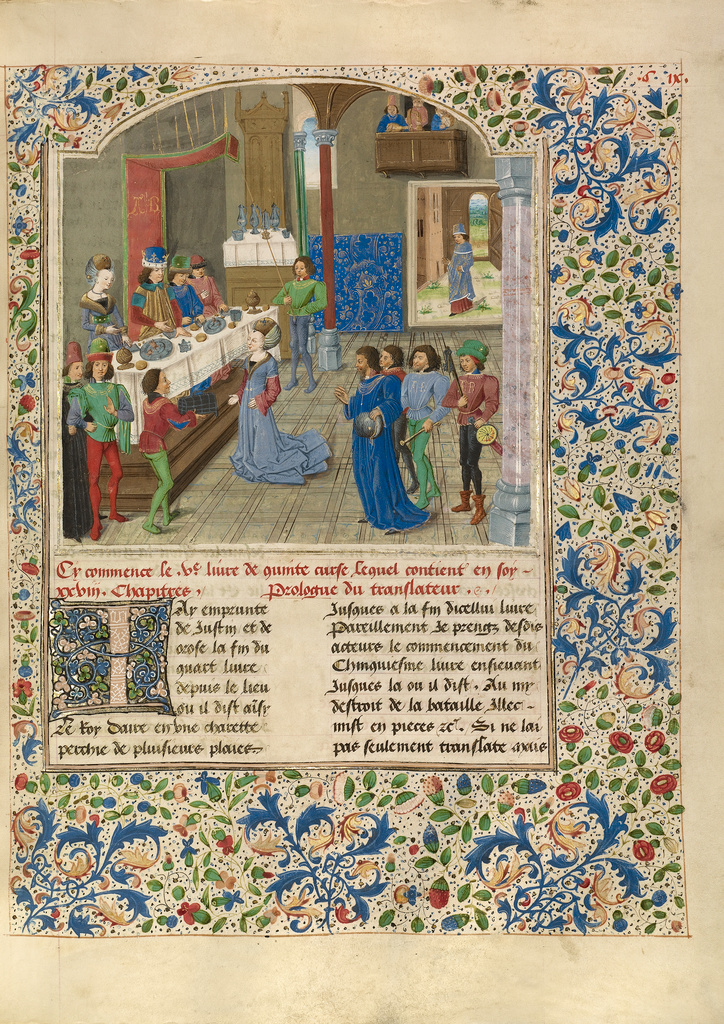 Open Content images tend to be large in file-size. To avoid potential data charges from your carrier, we recommend making sure your device is connected to a Wi-Fi network before downloading.
Not currently on view
Title:
Alexander and the Niece of Artaxerxes III
Place:
Lille (written) France Bruges (illuminated) Belgium (Place created)

Medium:
Tempera colors, gold leaf, gold paint, and ink on parchment
Dimensions:
Leaf: 43.2 x 33 cm (17 x 13 in.)
In a setting reminiscent of the rich interiors of the Burgundian court, Alexander the Great sits enthroned beneath a canopy at a banquet table. He calls before him one of the women he noticed among the Persian captives. As she kneels before him, he recognizes her as the niece of Artaxerxes III, an earlier king of Persia. Alexander orders an attendant to return her belongings, which he passes to her in a wooden casket. He also orders a search for her husband, who may be the figure in the long blue robe in the foreground.

This episode from the conqueror's history demonstrates Alexander's princely character, magnanimous even toward a captive because of her noble birth. The illuminator chose not to represent Quintus Curtius Rufus's description of Alexander's drinking at the banquet, because that would have been an example of debauchery indicative of Alexander's moral decline.

In this miniature depicting Alexander's court life, a blue and gold tapestry hangs on the back wall and Alexander sits at a richly set table on a raised platform. Well-dressed courtiers and musicians around him attend to his needs. The illuminator set up a deep perspective receding into space within the great hall.
Secular Manuscripts (October 21, 1986 to January 4, 1987)
The J. Paul Getty Museum (Malibu), October 21, 1986 to January 4, 1987
"The Visions of Tondal" and Manuscripts from the Time of Margaret of York (April 17 to July 1, 1990)
The J. Paul Getty Museum (Malibu), April 17 to July 1, 1990
Illuminated Secular Manuscripts (July 17 to September 30, 1990)
The J. Paul Getty Museum (Malibu), July 17 to September 30, 1990
Illuminated Secular Manuscripts (January 24 to April 9, 1995)
The J. Paul Getty Museum (Malibu), January 24 to April 9, 1995
Masterpieces of Medieval and Renaissance Manuscript illumination (December 16, 1997 to March 22, 1998)
The J. Paul Getty Museum at the Getty Center (Los Angeles), December 16, 1997 to March 22, 1998
Illuminating the Renaissance: The Triumph of Flemish Manuscript Painting in Europe (June 17, 2003 to February 22, 2004)
The J. Paul Getty Museum at the Getty Center (Los Angeles), June 17 to September 7, 2003
| Education Resource | Subjects | Grades | Format |
| --- | --- | --- | --- |
| Students create a nameplate and an original fairy tale book in an illuminated manuscript format. | Visual Arts; English–Language Arts | 3-5 | Long-Term Unit |
---