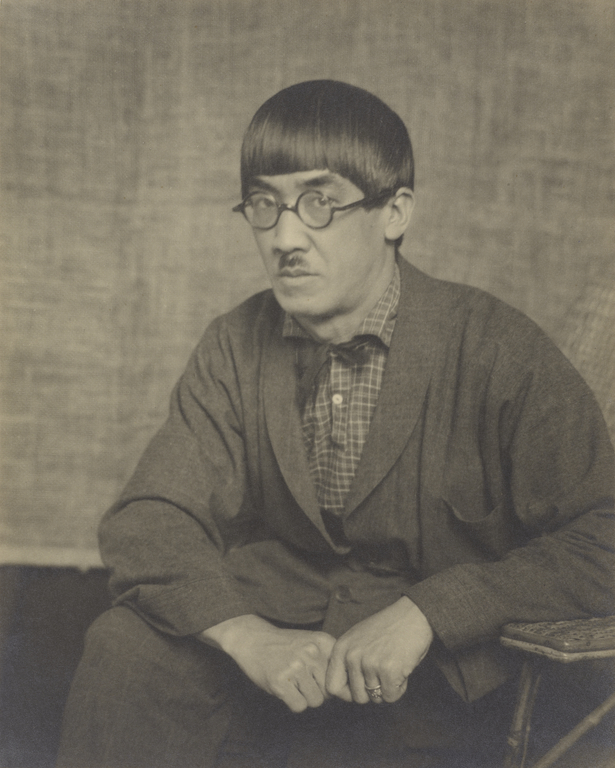 Tsuguharu Fujita

Man Ray (American, 1890 - 1976) 28.1 x 22.9 cm (11 1/16 x 9 in.) 84.XM.1000.65
Place:
Paris, France (Place created)

Dimensions:
28.1 x 22.9 cm (11 1/16 x 9 in.)
Copyright:
© Man Ray Trust ARS-ADAGP
In 1913 Tsuguharu Fujita left Tokyo for Paris, where he became a fixture in the artist's quarter of Montparnasse and a successful painter. Man Ray arrived seven years later and soon became the celebrated portraitist of Parisian artists during this period. Everyone who was anyone in Paris sat for Man Ray and was assured of a place in the Modernist pantheon because of the association with the famous photographer.
-
Man Ray, American, 1890 - 1976
A Practical Dreamer: The Photographs of Man Ray (October 27, 1998 to October 8, 2000)
The J. Paul Getty Museum at the Getty Center (Los Angeles), October 27, 1998 to January 17, 1999
Walker Art Center (Minneapolis), April 2 to June 25, 2000
Art Gallery of Ontario (Toronto), July 13 to October 8, 2000
Man Ray Portraits (February 7 to September 22, 2013) (11)
National Portrait Gallery (London), February 7 to May 26, 2013
Scottish National Portrait Gallery (Edinburgh), June 22 to September 22, 2013
---