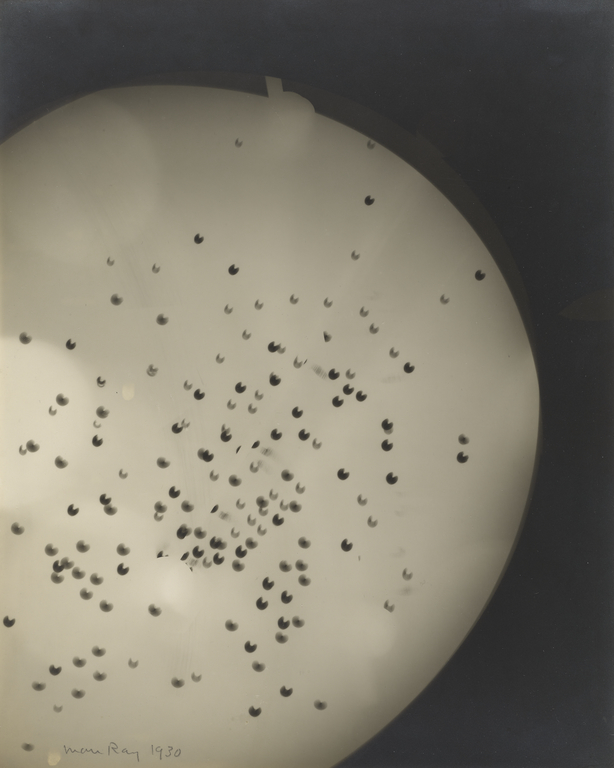 [Floating sequins]

Man Ray (American, 1890 - 1976) 28.4 x 22.7 cm (11 3/16 x 8 15/16 in.) 84.XM.1000.62
Not currently on view
Dimensions:
28.4 x 22.7 cm (11 3/16 x 8 15/16 in.)
Copyright:
© Man Ray Trust ARS-ADAGP
This Rayograph presents a constellation of sequins scattered across a circle of light, a reminder of the simplicity of the photogram process. Man Ray probably made it with little preconception of the final result; he spontaneously employed materials at hand. The work forces the viewer to draw upon his or her own experiences and imagination to give the image meaning, whether picturing a crater-pocked orb or a pocketful of tears.
-
Man Ray, American, 1890 - 1976
A Practical Dreamer: The Photographs of Man Ray (October 27, 1998 to October 8, 2000)
The J. Paul Getty Museum at the Getty Center (Los Angeles), October 27, 1998 to January 17, 1999
Walker Art Center (Minneapolis), April 2 to June 25, 2000
Art Gallery of Ontario (Toronto), July 13 to October 8, 2000
Man Ray/Lee Miller: Partners in Surrealism (July 14 to October 14, 2012)
The Fine Arts Museums of San Francisco, July 14 to October 14, 2012
On the Look-out for Light -- Man Ray's Photography in Surrealist Paris (September 15 to December 8, 2013) (65)
Max Ernst Museum Brühl des LVR (Brühl), September 15 to December 8, 2013
Light, Paper, Process: Reinventing Photography (April 14 to September 6, 2015)
The J. Paul Getty Museum at the Getty Center (Los Angeles), April 14 to September 6, 2015
---