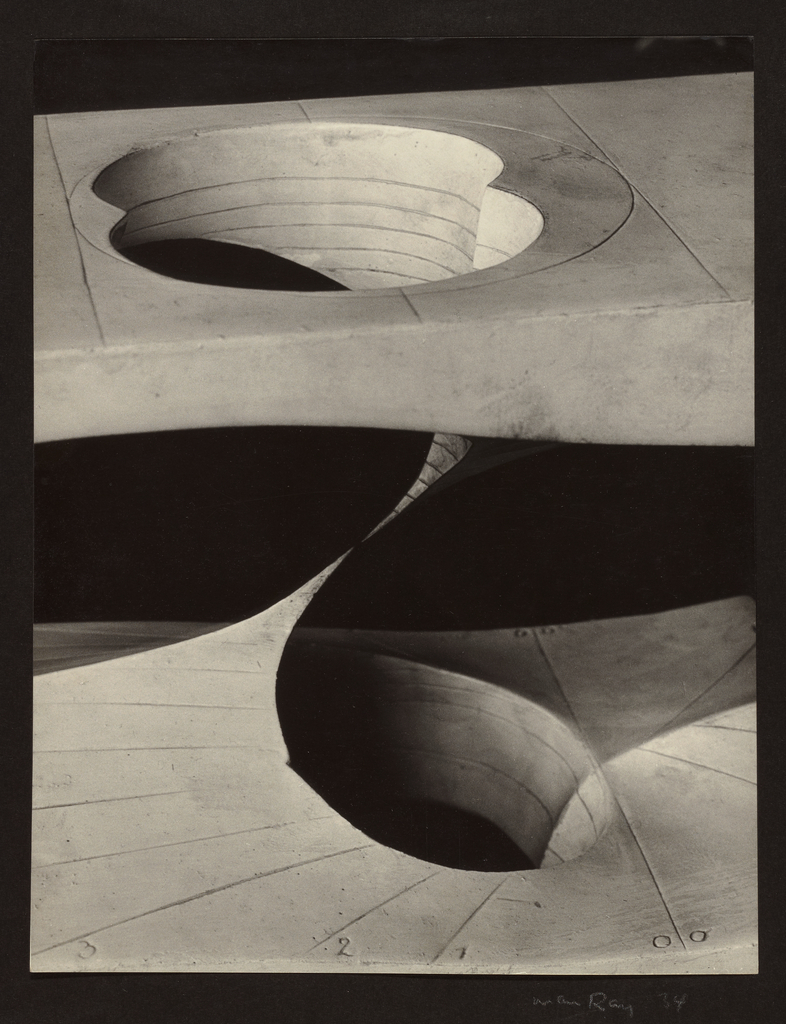 Equation, Poincare Inst., Paris.

Man Ray (American, 1890 - 1976) 30 × 23.3 cm (11 13/16 × 9 3/16 in.) 84.XM.1000.59
Not currently on view
Title:
Equation, Poincare Inst., Paris.
Place:
Paris, France (Place Created)

Dimensions:
30 × 23.3 cm (11 13/16 × 9 3/16 in.)
Copyright:
© Man Ray Trust ARS-ADAGP
Object Description
According to Man Ray, artist Max Ernst brought to his attention a group of three-dimensional models at the Institut Henri Poincaré in Paris. The forms, made of metal, wire, plaster, and wood and meant to illustrate algebraic equations, made a great impression on Man Ray, and he decided to photograph them.

"The formulas accompanying them meant nothing to me, but the forms themselves were as varied and authentic as any in nature. The fact that they were man-made were of added importance to me," wrote Man Ray of these objects, which he used as points of departure for a series of twenty paintings that he made in Los Angeles.
Provenance
- 1984
Arnold Crane, American, 1932 - 2014, sold to the J. Paul Getty Museum, 1984.
Exhibitions
A Practical Dreamer: The Photographs of Man Ray (October 27, 1998 to October 8, 2000)
The J. Paul Getty Museum at the Getty Center (Los Angeles), October 27, 1998 to January 17, 1999
Walker Art Center (Minneapolis), April 2 to June 25, 2000
Art Gallery of Ontario (Toronto), July 13 to October 8, 2000
Alias Man Ray: The Artfulness of Emmanuel Radnitzky (November 15, 2009 to March 14, 2010)
The Jewish Museum (New York), November 15, 2009 to March 14, 2010
Man Ray - Human Equations: A Journey from Mathematics to Shakespeare (February 7, 2015 to January 23, 2016)
The Phillips Collection (Washington, D.C.), February 7 to May 10, 2015
Ny Carlsberg Glyptotek (Copenhagen), June 11 to September 20, 2015
The Israel Museum (Jerusalem), October 20, 2015 to January 23, 2016
Dimensionism: Modern Art in the Age of Einstein (November 7, 2018 to January 6, 2020)
University of California, Berkeley Art Museum & Pacific Film Archive (Berkeley), November 7, 2018 to February 28, 2019
Mead Art Museum (Amherst), March 22 to July 28, 2019
---