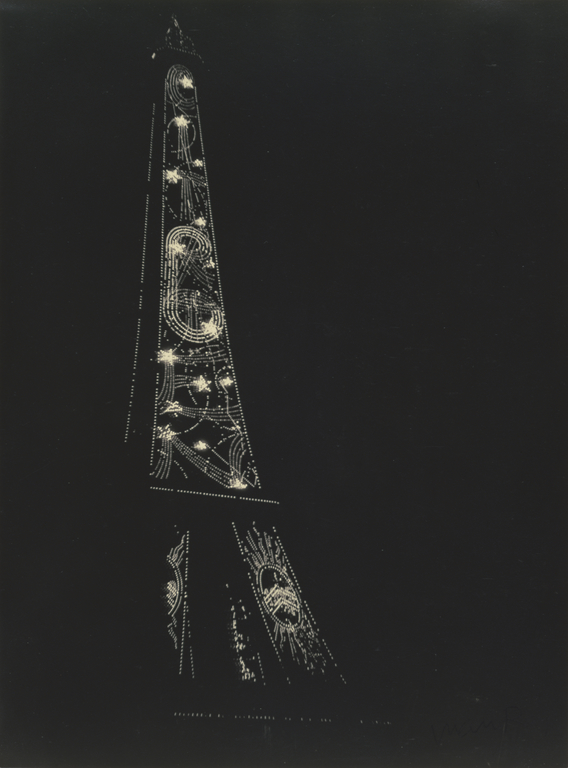 For Electricity [Pour Electricite].

Man Ray (American, 1890 - 1976) 23.8 × 17.8 cm (9 3/8 × 7 in.) 84.XM.1000.47
Not currently on view
Title:
For Electricity [Pour Electricite].
Place:
Paris, France, Europe (Place created)

Dimensions:
23.8 × 17.8 cm (9 3/8 × 7 in.)
Copyright:
© Man Ray Trust ARS-ADAGP
In the same year that he completed the portfolio Electricitécommissioned by the Paris electric company CPDE, Man Ray photographed the Eiffel Tower at night, illuminated by Fernand Jacopozzi's lighting design. The photograph nearly makes the viewer believe that this artificial firmament is a real heavenly scene. Shooting stars on decorous trajectories define the recognizable shape, but otherwise Man Ray transformed the celebrated monument into a delicately graphic image. He used this image as the basis for La Ville, a multiple exposure that was included in the Electricitéportfolio.
-
Man Ray, American, 1890 - 1976
A Practical Dreamer: The Photographs of Man Ray (October 27, 1998 to October 8, 2000)
The J. Paul Getty Museum at the Getty Center (Los Angeles), October 27, 1998 to January 17, 1999
Walker Art Center (Minneapolis), April 2 to June 25, 2000
Art Gallery of Ontario (Toronto), July 13 to October 8, 2000
Twilight Visions: Surrealism, Photography, and Paris (September 10, 2009 to May 9, 2010)
Frist Center for the Visual Arts (Nashville), September 10, 2009 to January 3, 2010
International Center of Photography (Jersey City), January 29 to May 9, 2010
Ray, Man. Man Ray: Photographe, mit einer Einleitung von Jean-Hubert Martin (München: Schirmer/Mosel, 1982), pl. 171 (used in untitled rayogram with faces).
---