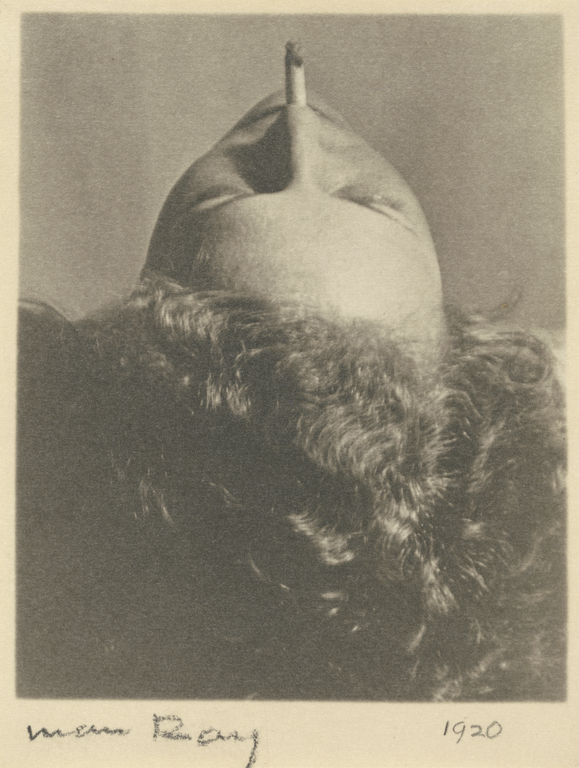 Woman Smoking a Cigarette

Man Ray (American, 1890 - 1976) 8.6 x 6.8 cm (3 3/8 x 2 11/16 in.) 84.XM.1000.43
Not currently on view
Title:
Woman Smoking a Cigarette
Place:
United States (Place created)

Dimensions:
8.6 x 6.8 cm (3 3/8 x 2 11/16 in.)
Copyright:
© Man Ray Trust ARS-ADAGP
Made in the same year that suffragettes won the right to vote in the United States, this photograph flouts convention by showing a woman smoking, with her head thrown back in abandon. Man Ray's equally daring composition shows the model from an unusual vantage point, with the image centered on the crown of her head.
-
Man Ray, American, 1890 - 1976
"...images that yet/ Fresh images beget...": Photographing Art (September 15 to November 15, 1987)
The J. Paul Getty Museum (Malibu), September 15 to November 15, 1987
Perpetual Motif: The Art of Man Ray (December 2, 1988 to January 7, 1990)
National Museum of American Art, Smithsonian Institution (Washington), December 2, 1988 to February 20, 1989
Museum of Contemporary Art (Los Angeles), March 19 to May 28, 1989
The Menil Collection (Houston), June 30 to September 17, 1989
Philadelphia Museum of Art (Philadelphia), October 14, 1989 to January 7, 1990
Man Ray (Paris) (April 28 to June 29, 1998)
Centre Georges Pompidou (Paris), April 28 to June 29, 1998
A Practical Dreamer: The Photographs of Man Ray (October 27, 1998 to October 8, 2000)
The J. Paul Getty Museum at the Getty Center (Los Angeles), October 27, 1998 to January 17, 1999
Walker Art Center (Minneapolis), April 2 to June 25, 2000
Art Gallery of Ontario (Toronto), July 13 to October 8, 2000
Man Ray Portraits (February 7 to September 22, 2013) (6)
National Portrait Gallery (London), February 7 to May 26, 2013
---