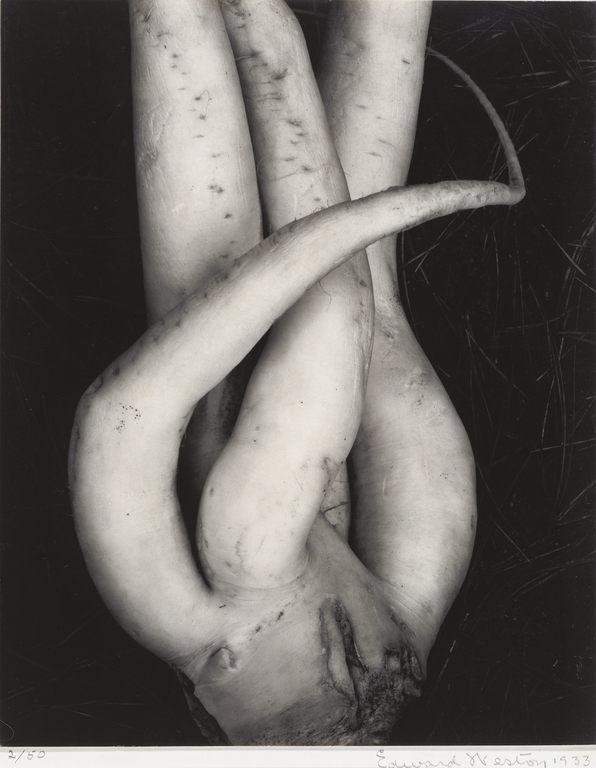 Not currently on view
Dimensions:
24.1 × 19.4 cm (9 1/2 × 7 5/8 in.)
Copyright:
© 1981 Arizona Board of Regents, Center for Creative Photography
Object Description
The vegetable's elongated, misshapen limbs twist and curve around each other. Its texture is like hair-pocked skin, and the broken root at the base of the photograph suggests a traumatic upheaval from the ground. So strongly reminiscent of the human body, this is a disturbing image, evoking physical deformities and human violence. Photographed against grass that is barely visible, like scratches in the background, the radish hovers above its natural setting while remaining eerily removed from it.
Exhibitions
Edward Weston: The Home Spirit and Beyond (November 25, 1986 to February 1, 1987)
The J. Paul Getty Museum (Malibu), November 25, 1986 to February 1, 1987
Tina Modotti and Edward Weston: The Mexico Years (April 29 to August 1, 2004)
Barbican Art Gallery (London), April 29 to August 1, 2004
Edward Weston: Enduring Vision (July 31 to November 25, 2007)
The J. Paul Getty Museum at the Getty Center (Los Angeles), July 31 to November 25, 2007
---