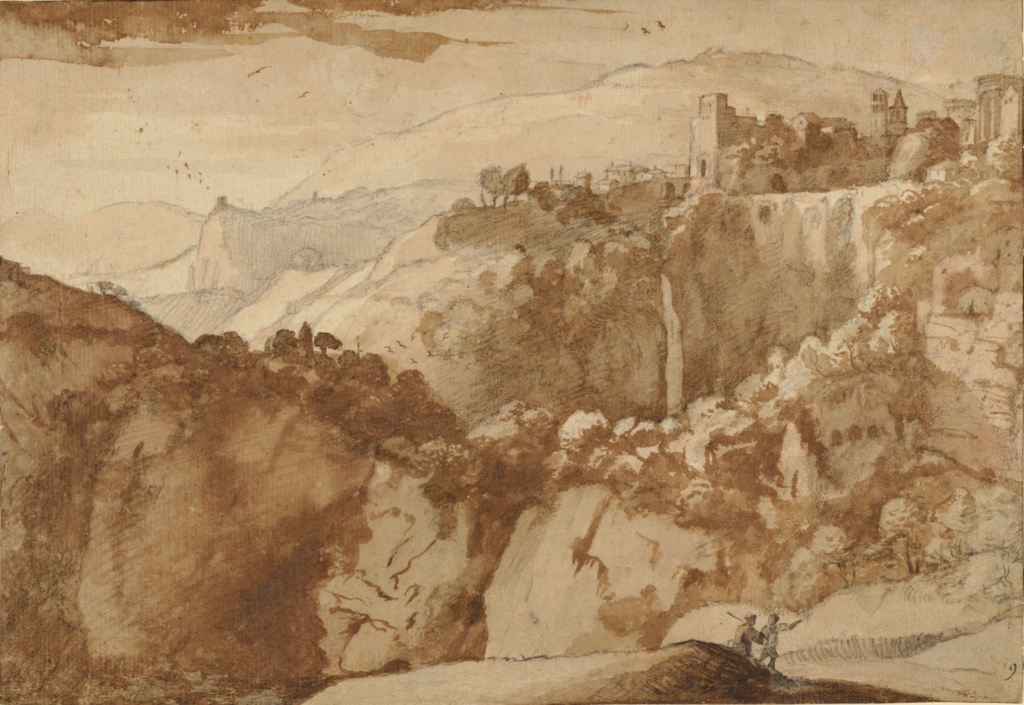 Open Content images tend to be large in file-size. To avoid potential data charges from your carrier, we recommend making sure your device is connected to a Wi-Fi network before downloading.
Not currently on view
Title:
View of Tivoli (recto); View of Tivoli (verso)
Medium:
Black chalk with brown and reddish-brown wash (recto); Pen and ink (verso)
Dimensions:
21.3 × 31 cm (8 3/8 × 12 3/16 in.)
Claude Lorrain bathed this view of Tivoli in shimmering, translucent washes whose tonal range represents a continuum of light and shadow that both defines and dematerializes form. Characteristically, he silhouetted forms against expanses of golden Italian light. The pen-and-ink study on the verso may have been made first as a compositional outline for the drawing on the recto.

More than thirty views of Tivoli, one of Claude's favorite subjects, survive. As always, he focused on the landscape rather than village architecture. He drew this study from nature, rather than composing it in the studio, and he may have used it in preparing a painting.

According to a German painter colleague, Joachim von Sandrart, Tivoli played a role in Claude's decision to paint en plein air (outdoors) rather than only in the studio: "[I]n Tivoli, in the wild rocks at the famous cascade . . . he found me painting from life and saw that I painted many works from nature itself, making nothing from imagination; this pleased himself so much that he applied himself eagerly to adopting the same method."
-
Henry George Charles Lascelles, British, 1882 - 1947
June 25, 1968
Christie's (London), [lot 73]
-
Private Collection, [Westfield, New Jersey]
Le paysage française de Poussin à Corot (May to June 1925) (recto; Catalogue edited by L. Hourticq)
Musée du Petit Palais (Paris), May to June 1925
Fifth Loan Exhibition (1928) (recto)
Magnasco Society, London, 1928
French Master Drawings (December 3, 1991 to February 16, 1992)
The J. Paul Getty Museum (Malibu), December 3, 1991 to February 16, 1992
European Landscape Drawings of the 15th through 19th Century (October 6 to December 13, 1992)
The J. Paul Getty Museum (Malibu), October 6 to December 13, 1992
16-17th Century European Drawings (December 28, 1993 to March 13, 1994)
The J. Paul Getty Museum (Malibu), December 28, 1993 to March 13, 1994
Drawn Toward Nature: Landscapes and Gardens in Ancién-Regime France (June 13 to August 27, 1995) (recto)
The J. Paul Getty Museum (Malibu), June 13 to August 27, 1995
Landscape Drawings 1500 - 1900 (June 9 to August 23, 1998) (recto)
The J. Paul Getty Museum at the Getty Center (Los Angeles), June 9 to August 23, 1998
Visions of Grandeur: Drawing in the Baroque Age (June 1 to September 12, 2004) (recto)
The J. Paul Getty Museum at the Getty Center (Los Angeles), June 1 to September 12, 2004
Capturing Nature's Beauty: Three Centuries of French Landscapes (July 28 to November 1, 2009) (recto)
The J. Paul Getty Museum at the Getty Center (Los Angeles), July 28 to November 1, 2009
The Lure of Italy: Artists' Views (May 9 to July 30, 2017) (recto)
The J. Paul Getty Museum at the Getty Center (Los Angeles), May 9 to July 30, 2017
---