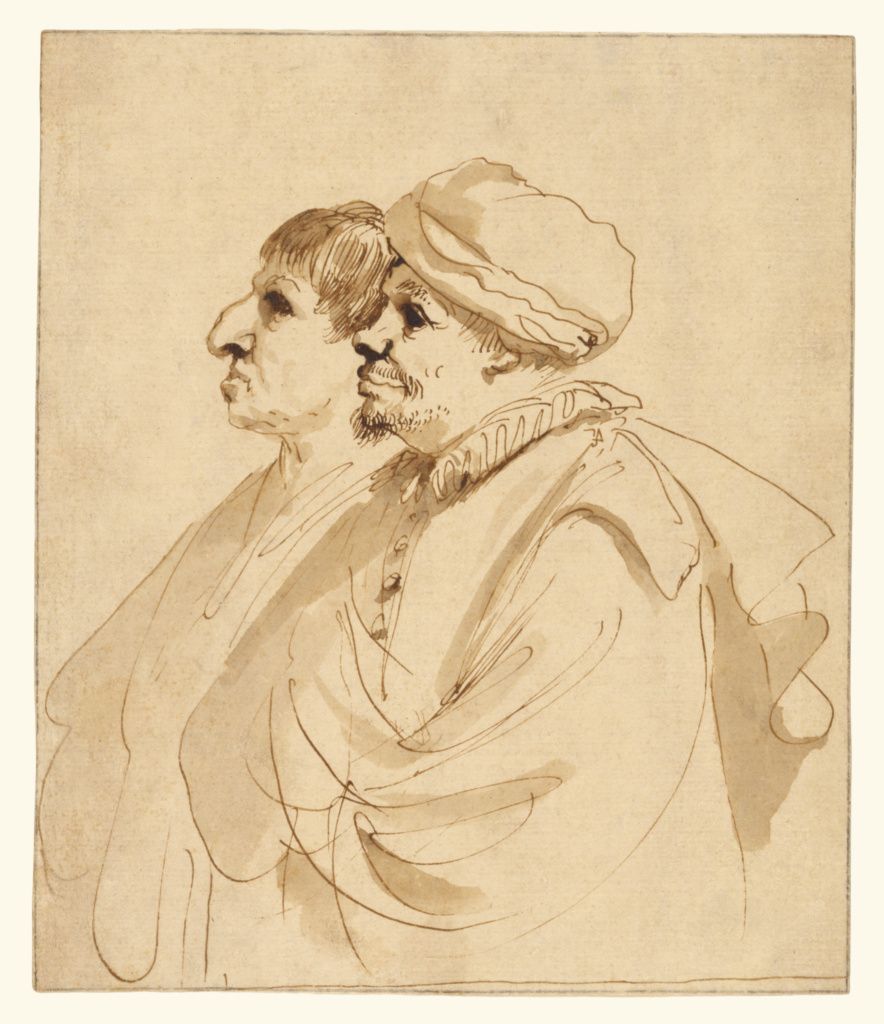 Open Content images tend to be large in file-size. To avoid potential data charges from your carrier, we recommend making sure your device is connected to a Wi-Fi network before downloading.
Not currently on view
Title:
Caricature of Two Men Seen in Profile
Medium:
Pen and brown ink, brush with light brown wash
Dimensions:
20.4 × 17.3 cm (8 1/16 × 6 13/16 in.)
Object Description
Guercino drew caricatures for his own amusement and that of his friends. He filtered his acute observations of the people and events of everyday life through his sharp perception of the comic, a precedent established by his Bolognese predecessors the Carracci, and before them, Leonardo Da Vinci.

Working quickly, Guercino caricatured two middle-aged men gazing intently to the left. He depicted their faces in the most detail, yet even here he used only a few, well-placed lines to suggest a jawline or a beard. He then delicately touched essential areas with luminous wash in varied intensities. In particular, the face of the man at far left shows Guercino's subtle accuracy with wash, suggesting the effects of sunlight on his skin. The men's clothing is treated even more subtly: a hasty criss-cross of tangled lines describe the arms of the man at the left, folded in his baggy sleeves.
Exhibitions
Two Centuries of Drawings from Bologna (December 15, 1998 to February 28, 1999)
The J. Paul Getty Museum at the Getty Center (Los Angeles), December 15, 1998 to February 28, 1999
Mise-en-Page: The Art of Composing on Paper (December 17, 2002 to March 9, 2003)
The J. Paul Getty Museum at the Getty Center (Los Angeles), December 17, 2002 to March 9, 2003
Casting Characters: Portraits and Studies of Heads (November 4, 2003 to February 1, 2004)
The J. Paul Getty Museum at the Getty Center (Los Angeles), November 4, 2003 to February 1, 2004
Guercino: Mind to Paper (October 17, 2006 to May 13, 2007)
The J. Paul Getty Museum at the Getty Center (Los Angeles), October 17, 2006 to January 21, 2007
Courtauld Institute of Art Gallery (London), February 22 to May 13, 2007
A Light Touch: Exploring Humor in Drawing (September 23 to December 7, 2008)
The J. Paul Getty Museum at the Getty Center (Los Angeles), September 23 to December 7, 2008
The Secret Life of Drawings (November 23, 2010 to February 13, 2011)
The J. Paul Getty Museum at the Getty Center (Los Angeles), November 23, 2010 to February 13, 2011
Recent Acquisitions in Context (December 2, 2014 to February 22, 2015)
The J. Paul Getty Museum at the Getty Center (Los Angeles), December 2, 2014 to February 22, 2015
---