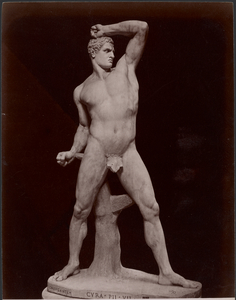 Not currently on view
Title:
Creugante, Canova, Museo Vaticano
Place:
Rome Italy Europe Vatican City Europe (Place created)

Dimensions:
25.6 × 19.6 cm (10 1/16 × 7 11/16 in.)
Copyright:
Status unknown, research required
Sculpture of a boxer, Creugas, sculpted by Canova. The male figure is nude and in a pose with one arm raised above his head. He is wearing only a fig leaf and has a scowling expression.
- 1984
Samuel Wagstaff, Jr., American, 1921 - 1987, sold to the J. Paul Getty Museum, 1984.
---