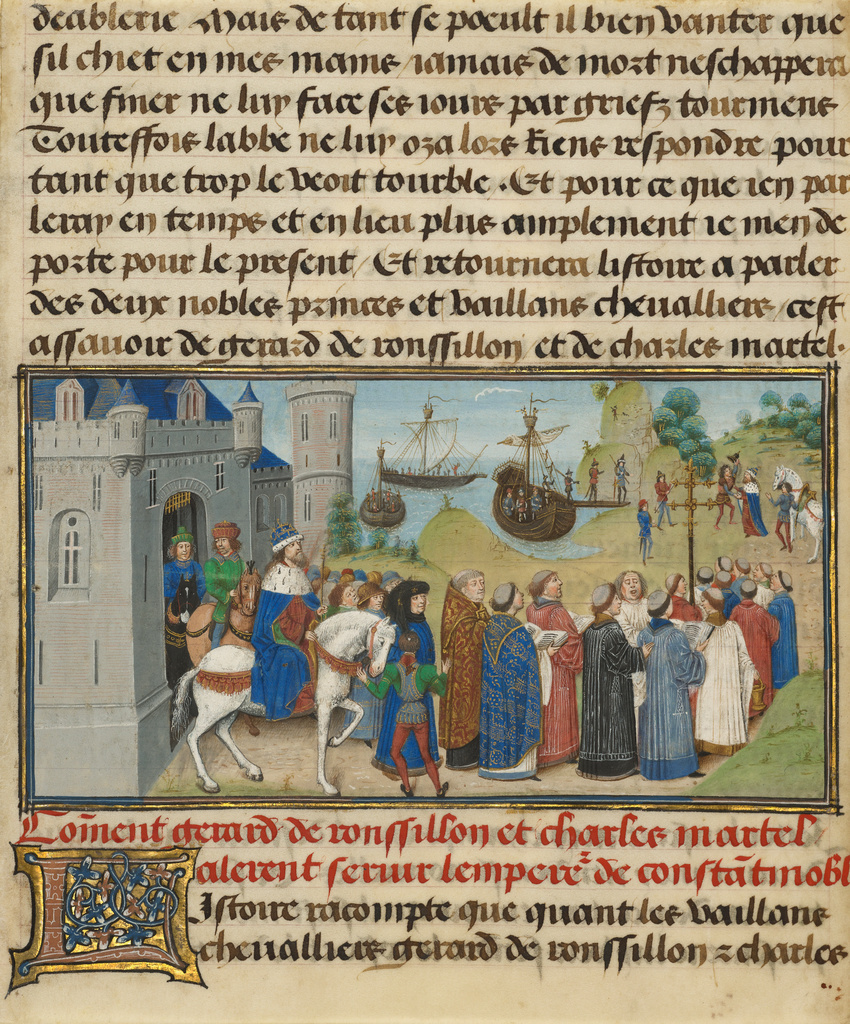 The Byzantine Emperor Welcoming Roussillon and Martel

Loyset Liédet (Flemish, active about 1448 - 1478) and Pol Fruit (Flemish, active about 1468) Leaf: 23.2 x 19.5 cm (9 1/8 x 7 11/16 in.) Ms. Ludwig XIII 6, leaf 2
Open Content images tend to be large in file-size. To avoid potential data charges from your carrier, we recommend making sure your device is connected to a Wi-Fi network before downloading.
This image is available for download, without charge, under the Getty's Open Content Program.
null
Title:
The Byzantine Emperor Welcoming Roussillon and Martel
Place(s):
Illuminated: Bruges Belgium Written: Brussels Belgium (Place created)
Date:
written 1463 - 1465; illuminated 1467 - 1472
Medium:
Tempera colors, gold leaf, and gold paint on parchment
Dimensions:
Leaf: 23.2 x 19.5 cm (9 1/8 x 7 11/16 in.)
Richly dressed in an ermine-collared cloak and magnificent crown, the Byzantine emperor emerges from the city of Constantinople on a white horse, surrounded by members of his court. A religious procession, including a group of clerics singing from open books, precedes him. The emperor appears again in the background at the right, this time greeting the Europeans who disembark from their boat after their long journey. As the rubric just below the miniature explains, in the 800s Girart de Roussillon and Charles Martel went to assist the Emperor of Constantinople in his battles with the Saracens. When Loyset Liédet painted this miniature in the 1400s, the subject had a special resonance: the recent Turkish capture of Constantinople in 1453 recalled the Saracen incursions and prompted calls for European crusaders to rescue the city.
Vie a mon desir: Illuminated Manuscripts and Their Patrons (April 18 to July 2, 1989)
The J. Paul Getty Museum, (Malibu), April 18 to July 2, 1989
Illuminating the Past: Historical Texts of the Middle Ages and Renaissance (February 2 to April 11, 1993)
The J. Paul Getty Museum, (Malibu), February 2 to April 11, 1993
Picturing the Medieval Family (May 4 to July 18, 1999)
The J. Paul Getty Museum at the Getty Center, (Los Angeles), May 4 to July 18, 1999
Illuminating the Renaissance: The Triumph of Flemish Manuscript Painting in Europe (June 17, 2003 to February 22, 2004)
The J. Paul Getty Museum at the Getty Center, (Los Angeles), June 17 to September 7, 2003
Royal Academy of Arts (London), November 29, 2003 to February 22, 2004
Byzantium and the West (September 14 to December 5, 2004)
The J. Paul Getty Museum at the Getty Center, (Los Angeles), September 14, 2004 to December 5, 2003
The Medieval Scriptorium (November 24, 2009 to February 14, 2010)
The J. Paul Getty Museum at the Getty Center, (Los Angeles), November 24, 2009 to February 14, 2010
---