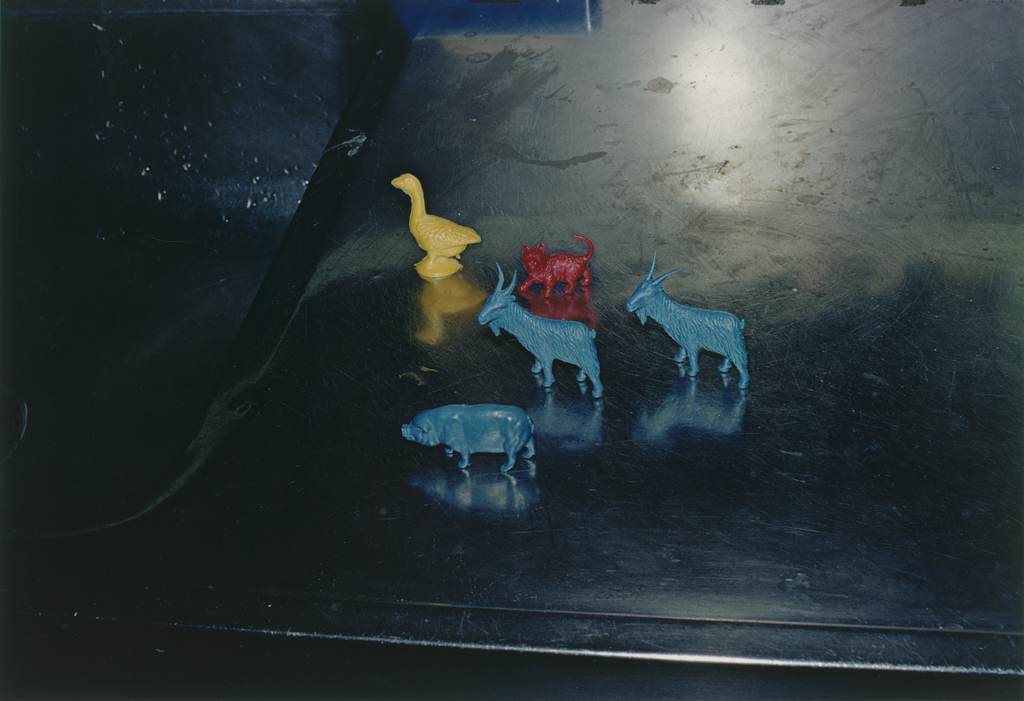 Memphis

William Eggleston (American, born 1939) 32.9 × 47.9 cm (12 15/16 × 18 7/8 in.) 84.XP.674.15
Not currently on view
Place:
Memphis, Tennessee, United States, North America (Place created)

Date:
negative 1971; print 1974
Dimensions:
32.9 × 47.9 cm (12 15/16 × 18 7/8 in.)
Copyright:
© Eggleston Artistic Trust
Five plastic monochromatic animals march across a scratched stainless surface as though on a determined mission to plunge off the edge at left. Save for a small rectangle of blue at the top center of the image, the brightly-colored plastic animals stand in stark relief against the cool, steel-gray surface. William Eggleston included this image in his portfolio 14 Pictures, published in 1974, which contained a cross-section of his early photographs.
- 1984
Samuel Wagstaff, Jr., American, 1921 - 1987, sold to the J. Paul Getty Museum, 1984.
William Eggleston and the Color Tradition (October 26, 1999 to January 30, 2000)
The J. Paul Getty Museum at the Getty Center (Los Angeles), October 26, 1999 to January 30, 2000
Useful, sweet and alike a museum: Animals looking at us (October 21, 2005 to January 15, 2006)
Museum Folkwang (Essen), October 21, 2005 to January 15, 2006
In Focus: Animalia (May 26 to October 18, 2015)
The J. Paul Getty Museum at the Getty Center (Los Angeles), May 26 to October 18, 2015
---