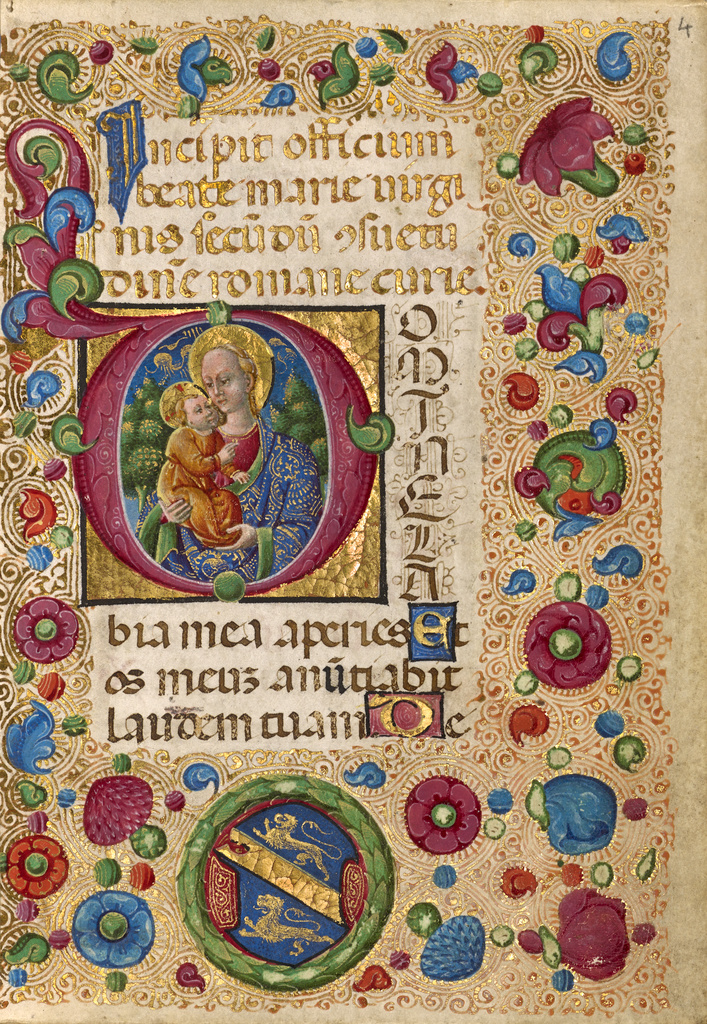 Open Content images tend to be large in file-size. To avoid potential data charges from your carrier, we recommend making sure your device is connected to a Wi-Fi network before downloading.
Title:
Initial D: The Virgin and Child
Place:
Ferrara, Emilia-Romagna, Italy (Place created)

Medium:
Tempera colors, gold paint, gold leaf, and ink on parchment
Dimensions:
Leaf: 10.8 x 7.9 cm (4 1/4 x 3 1/8 in.)
On this first page of the pre-dawn service of Matins from the Hours of the Virgin, the Virgin and Child embrace within an initial D. The text, taken from Psalm 50, reads:Domine labia mea aperies et os meus an[n]utiabit laudem tuam (Lord, you will open my lips, and my mouth will declare your praise).
Vie a mon desir: Illuminated Manuscripts and Their Patrons (April 18 to July 2, 1989)
The J. Paul Getty Museum (Malibu), April 18 to July 2, 1989
Ludwigslust: Die Sammlung Irene und Peter Ludwig (June 19 to October 10, 1993)
Germanisches Nationalmuseum (Nuremberg), June 19 to October 10, 1993
La minatura a Ferrara dal tempo di Cosmè Tura al primo Cinquecento (March 1 to May 31, 1998)
Museo Civico di Schifanoia (Ferrara), March 1 to May 31, 1998
Five Hundred Years of Manuscript Illumination (February 11 to June 1, 2003)
The J. Paul Getty Museum at the Getty Center (Los Angeles), February 11 to June 1, 2003
Cosmè Tura e Francesco del Cossa: L'arte a Ferrara nell'età di Borso d'Este (September 23, 2007 to January 6, 2008)
Palazzo dei Diamanti (Ferrara), September 23, 2007 to January 6, 2008
Renaissance Splendors of the Northern Italian Courts (March 31 to June 21, 2015)
The J. Paul Getty Museum at the Getty Center (Los Angeles), March 31 to June 21, 2015
---