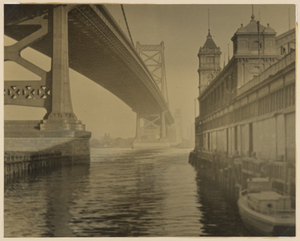 Not currently on view
Place:
United States, North America (Place created)

Dimensions:
25.7 × 32.1 cm (10 1/8 × 12 5/8 in.)
Copyright:
Status unknown, research required
View looking down the Delaware River with the Delaware River Bridge (Benjamin Franklin Bridge). There is a small boat docked along the right side of the river.
-1984
Daniel Wolf, Inc., sold to the J. Paul Getty Museum, 1984.
---