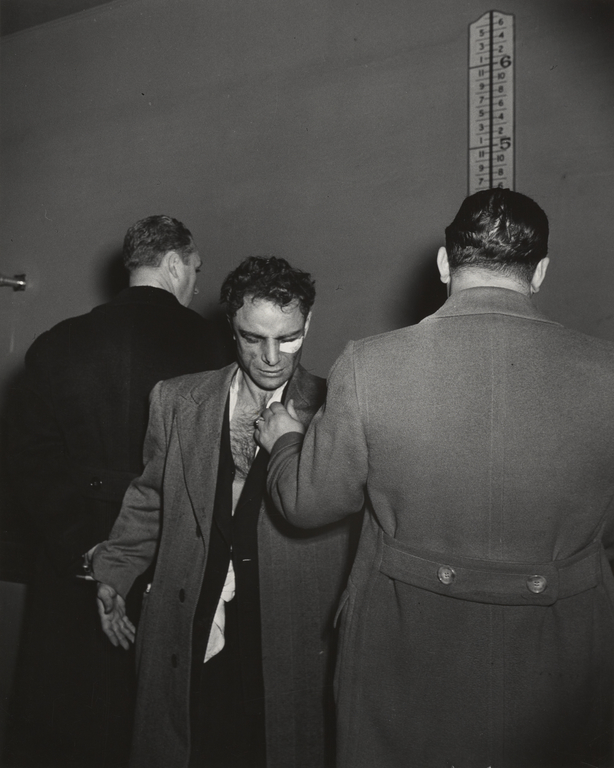 Cop Killer

Weegee (Arthur Fellig) (American, born Austria, 1899 - 1968) 33.7 × 26.8 cm (13 1/4 × 10 9/16 in.) 84.XM.190.30
Not currently on view
Date:
negative January 16, 1941; print about 1950
Dimensions:
33.7 × 26.8 cm (13 1/4 × 10 9/16 in.)
Copyright:
© International Center of Photography
Object Description
January 16, 1941. Gunman doesn't want his picture taken. Police today permitted photographers in the line-up room at headquarters. The subject was Anthony Esposito, under indictment with his brother William for the murder of a businessman and a policeman in Tuesday's tragic Battle of Fifth Ave. The detectives, manacled to Esposito, didn't want their names or pictures in the papers. They obliged by turning around, holding the gunman by head and arm so he couldn't duck. The yardstick is on the line-up platform where Esposito had stood, refusing to answer questions.

"He looked like a stubborn surly, snarling animal," Weegee reported. "He stumbled and sagged over to one side, like a drunk."

-- published in Weegee's World

New York tabloid photographer Weegee created this image of a murder suspect in his aggressive trademark style. Standing back about six to ten feet with his Speed Graphic camera, he blasted his flash, giving Esposito a vulnerable look. This visual starkness is relieved only by Weegee's impeccable sense of humor, which he expresses by emphasizing the details of the detectives' trench coats and the height chart that appears to emerge from one's head.
Exhibitions
Photographers of Genius (March 16 to July 25, 2004)
The J. Paul Getty Museum at the Getty Center (Los Angeles), March 16 to July 25, 2004
Scene of the Crime: Photo by Weegee (September 20, 2005 to January 22, 2006)
The J. Paul Getty Museum at the Getty Center (Los Angeles), September 20, 2005 to January 22, 2006
---