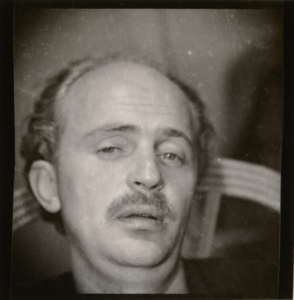 Not currently on view
Title:
Self-Portrait (Wols grimacing)
Place:
Cassis, France, Europe (Place created)

Date:
negative: 1940–1941; print: 1976
Dimensions:
15.2 × 14.8 cm (6 × 5 13/16 in.)
Copyright:
© Wols/Artists Rights Society (ARS), New York/ADAGP, Paris
Portrait of Wols, facing the camera with his eyes partially closed. His mouth is open and grimacing.
1976 - 1984
Printed by Georg Heusch, sold to the J. Paul Getty Museum, 1984.
Glozer, Laszlo. Wols Photograph (Bern: Das Kunstmuseum, 1978), p. 108, pl. 191.
Wols, with an essay by Franz-Joachim Verspohl, exh. cat. (Koln: Galerie Karsten Greve, 1998, p. 7.
Mehring, Christine. Wols Photographs (Cambridge, Mass.: Busch-Reisinger Museum, 1999), p. 55, no. 15.
Becker, Astrid and Joseph N. Newland, eds. Wols: Retrospective, exh. cat. (Bremen: Kunsthalle Bremen, 2013), p. 6, pl. 36.
---