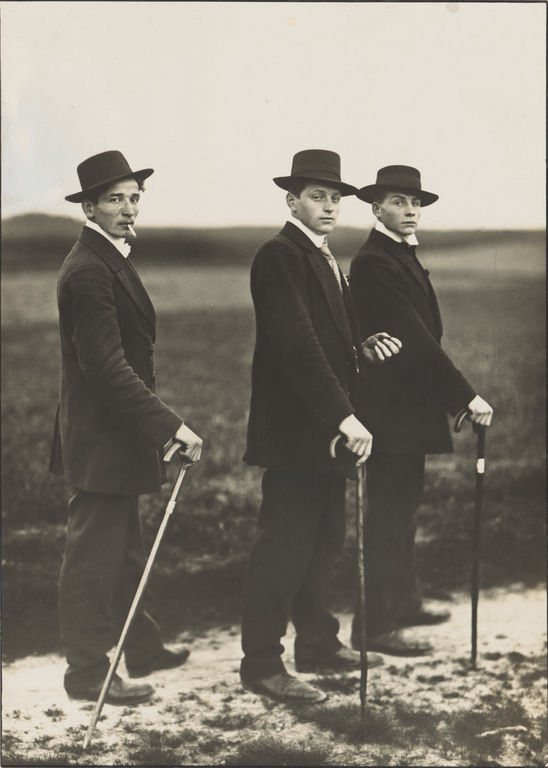 [Young Farmers (Jungbauern)].

August Sander (German, 1876 - 1964) 23.3 × 17 cm (9 3/16 × 6 11/16 in.) 84.XM.126.294
Not currently on view
Title:
[Young Farmers (Jungbauern)].
Place:
Germany, Europe (Place created)

Dimensions:
23.3 × 17 cm (9 3/16 × 6 11/16 in.)
"These people, whose way of life I had known from my youth, appealed to me because of their closeness to nature," wrote August Sander of the farmers who were among his first subjects. These images belong to his photographic documentation of the German people, which he eventually called "People of the Twentieth Century." Perhaps most striking about this portrait of three farmers walking along a country road on their way to a dance is their formal dress: each wears a hat and suit and carries a walking stick. This formal appearance removes them from the reality of their occupations. Each man is seen from the side, glancing over his shoulder at the photographer; they stop only for a moment before continuing on their journey.
-
Gunther Sander, German, 1907 - 1987
August Sander: Photographs from the J. Paul Getty Museum (September 22 to October 30, 1988)
Stiftung Bahnhof Rolandseck, September 22 to October 30, 1988
August Sander: Faces of the German People (May 21 to November 3, 1991)
The J. Paul Getty Museum (Malibu), May 21 to July 28, 1991
J.B. Speed Art Museum (Louisville), September 17 to November 3, 1991
Arrows of Time: Photographs from the J. Paul Getty Museum (January 24 to April 2, 1995)
Armand Hammer Museum of Art and Cultural Center at UCLA (Los Angeles), January 24 to April 2, 1995
Capturing Time: A Celebration of Photographs (December 1, 1997 to March 1, 1998)
The J. Paul Getty Museum at the Getty Center (Los Angeles), December 1, 1997 to March 1, 1998
August Sander's People of the 20th Century (November 16, 2007 to September 14, 2008)
Art Gallery of New South Wales (Sydney), November 16, 2007 to February 3, 2008
The J. Paul Getty Museum at the Getty Center (Los Angeles), May 6 to September 14, 2008
---