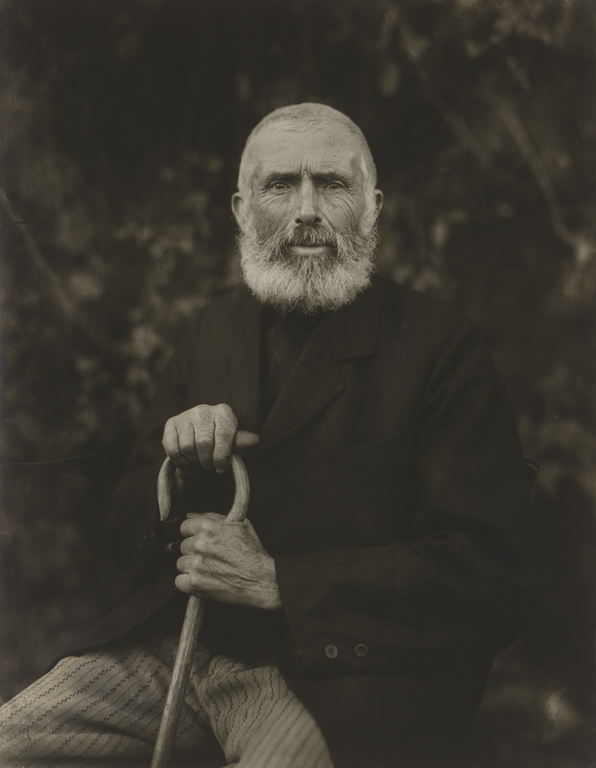 [Farmer, Westerwald (Bauer, Westerwald)]

August Sander (German, 1876 - 1964) 29.1 × 22.9 cm (11 7/16 × 9 in.) 84.XM.126.232
Not currently on view
Title:
[Farmer, Westerwald (Bauer, Westerwald)]
Place:
Westerwald, Germany, Europe (Place created)

Dimensions:
29.1 × 22.9 cm (11 7/16 × 9 in.)
Identifying this figure as the "earthbound man," Sander forged an implicit reference to the soil as a source of livelihood. The farmer's hands grasp the cane, which keeps him upright and connected to the earth.
-
Gunther Sander, German, 1907 - 1987
August Sander: German Portraits, 1918-1933 (March 6 to June 24, 2001)
The J. Paul Getty Museum at the Getty Center (Los Angeles), March 6 to June 24, 2001
August Sander's People of the 20th Century (November 16, 2007 to September 14, 2008)
Art Gallery of New South Wales (Sydney), November 16, 2007 to February 3, 2008
The J. Paul Getty Museum at the Getty Center (Los Angeles), May 6 to September 14, 2008
---