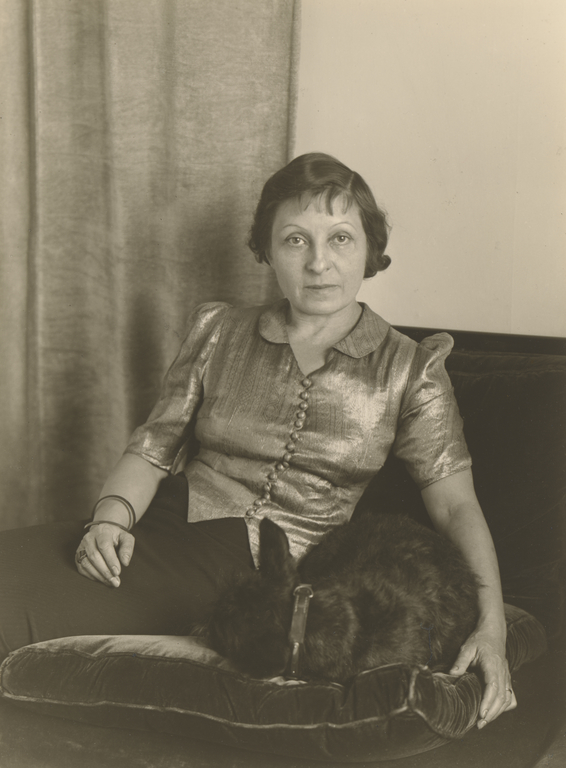 Architect's Wife (Frau eines Architeckten) [Ada Riphahn, Cologne]

August Sander (German, 1876 - 1964) 27.9 × 21 cm (11 × 8 1/4 in.) 84.XM.126.228
Not currently on view
Title:
Architect's Wife (Frau eines Architeckten) [Ada Riphahn, Cologne]
Dimensions:
27.9 × 21 cm (11 × 8 1/4 in.)
Ada Riphahn, the wife of Wilhelm Riphahn, who designed the Cologne Opera House, radiates a confidence appropriate to her age and social standing. The plush velvet chair, feathery dog at her side, and shimmering blouse are balanced by the strong lines of the drapery to create a richly textured portrait.
August Sander: German Portraits, 1918-1933 (March 6 to June 24, 2001)
The J. Paul Getty Museum at the Getty Center (Los Angeles), March 6 to June 24, 2001
August Sander's People of the 20th Century (November 16, 2007 to September 14, 2008)
Art Gallery of New South Wales (Sydney), November 16, 2007 to February 3, 2008
The J. Paul Getty Museum at the Getty Center (Los Angeles), May 6 to September 14, 2008
---