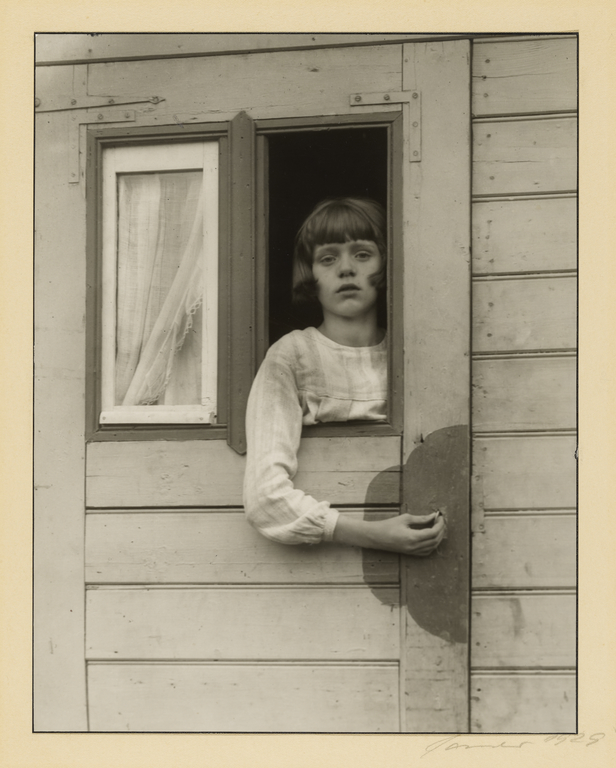 Young Girl in a Circus Wagon, Düren
Not currently on view
Title:
Young Girl in a Circus Wagon, Düren
Place:
Düren, Germany (Place Created)
Dimensions:
29.4 × 22.9 cm (11 9/16 × 9 in.)
Object Description
It is very interesting to talk to these people: one learns a great deal about their circumstances and the deeper meaning of their lives.

August Sander's sympathetic view of circus people and gypsies and his genuine love of children are embodied in this image. Rather than positioning the girl in front of the caravan wagon, he had her remain sheltered, holding a key in a locked door. Lace-edged window curtains reflect an attempt to make this roaming wagon--probably the only home this girl has ever known--a comfortable environment. Behind her is a mysterious world, not to be revealed to the viewer. As one historian has remarked, "a suggestive, almost tantalizing narrative unfolds: of freedom and confinement, security and danger, things visible and hidden."
Exhibitions
August Sander: Photographs from the J. Paul Getty Museum (September 22 to October 30, 1988)
Stiftung Bahnhof Rolandseck, September 22 to October 30, 1988
The Art of Photography: 1839 - 1989 (Sezon Museum of Art) (March 3 to April 1, 1989)
Sezon Museum of Art (Tokyo), March 3 to April 1, 1989
August Sander: Faces of the German People (May 21 to November 3, 1991)
The J. Paul Getty Museum (Malibu), May 21 to July 28, 1991
J.B. Speed Art Museum (Louisville), September 17 to November 3, 1991
August Sander: German Portraits, 1918-1933 (March 6 to June 24, 2001)
The J. Paul Getty Museum at the Getty Center (Los Angeles), March 6 to June 24, 2001
"People of the Twentieth Century": August Sander's Photographic Portrait of Germany (May 24 to September 19, 2004)
The Metropolitan Museum of Art (New York), May 24 to September 19, 2004
August Sander's People of the 20th Century (November 16, 2007 to September 14, 2008)
Art Gallery of New South Wales (Sydney), November 16, 2007 to February 3, 2008
The J. Paul Getty Museum at the Getty Center (Los Angeles), May 6 to September 14, 2008
---