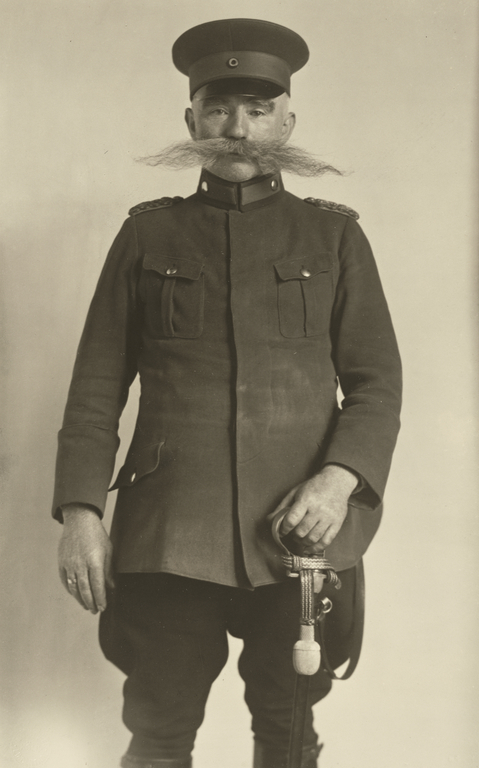 [Police Officer (Polizeibeamter. Der Herr Wachtmeister)]

August Sander (German, 1876 - 1964) 24 x 14.9 cm (9 7/16 x 5 7/8 in.) 84.XM.126.195
Not currently on view
Title:
[Police Officer (Polizeibeamter. Der Herr Wachtmeister)]
Dimensions:
24 x 14.9 cm (9 7/16 x 5 7/8 in.)
Dominated by an extraordinary moustache that defies gravity as it hovers over his mouth, the police sergeant stands erect and centered in the frame, his left hand holding the handle of an ornamental weapon. Identified only by his occupation in the title, he resists becoming merely a type by means of his distinctive facial hair and the wedding band on his finger.
-
Gunther Sander, German, 1907 - 1987
August Sander: Photographs from the J. Paul Getty Museum (September 22 to October 30, 1988)
Stiftung Bahnhof Rolandseck, September 22 to October 30, 1988
August Sander: Faces of the German People (May 21 to November 3, 1991)
The J. Paul Getty Museum (Malibu), May 21 to July 28, 1991
J.B. Speed Art Museum (Louisville), September 17 to November 3, 1991
August Sander: German Portraits, 1918-1933 (March 6 to June 24, 2001)
The J. Paul Getty Museum at the Getty Center (Los Angeles), March 6 to June 24, 2001
August Sander's People of the 20th Century (November 16, 2007 to September 14, 2008)
Art Gallery of New South Wales (Sydney), November 16, 2007 to February 3, 2008
The J. Paul Getty Museum at the Getty Center (Los Angeles), May 6 to September 14, 2008
Keller, Judith. August Sander: German Portraits, 1918-1933, exh. brochure (Los Angeles: The J. Paul Getty Museum) center #2
---