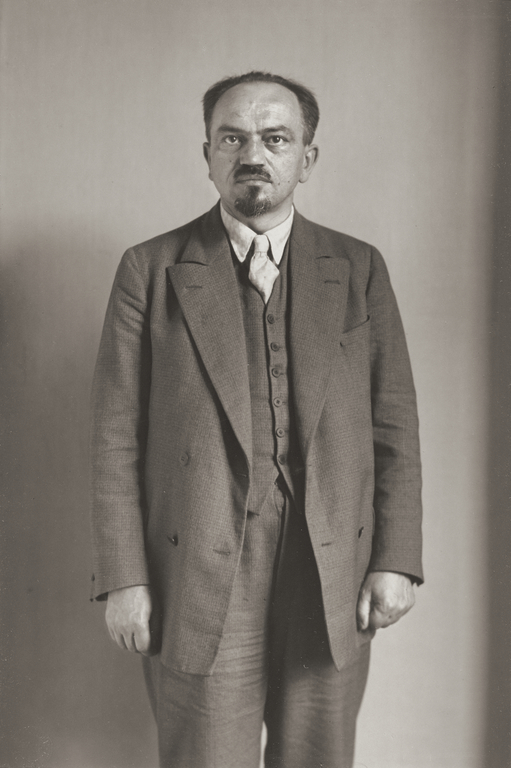 Socialist Leader Paul Frölich

August Sander (German, 1876 - 1964) 22.5 x 14.9 cm (8 7/8 x 5 7/8 in.) 84.XM.126.193
Not currently on view
Title:
Socialist Leader Paul Frölich
Dimensions:
22.5 x 14.9 cm (8 7/8 x 5 7/8 in.)
In this stark portrait the Socialist leader Paul Fröhlich stands in the center of the image, facing directly forward with a serious expression. His hands, half-balled into fists, give the impression of an uncompromising man, but they may also indicate some discomfort at having his portrait made. Fröhlich focused his penetrating gaze on the photographer, who was positioned slightly above the camera. His softly wrinkled three-piece suit tempers his rigid comportment.
-
Gunther Sander, German, 1907 - 1987
August Sander: Photographs from the J. Paul Getty Museum (September 22 to October 30, 1988)
Stiftung Bahnhof Rolandseck, September 22 to October 30, 1988
August Sander: Faces of the German People (May 21 to November 3, 1991)
The J. Paul Getty Museum (Malibu), May 21 to July 28, 1991
J.B. Speed Art Museum (Louisville), September 17 to November 3, 1991
August Sander: German Portraits, 1918-1933 (March 6 to June 24, 2001)
The J. Paul Getty Museum at the Getty Center (Los Angeles), March 6 to June 24, 2001
August Sander's People of the 20th Century (November 16, 2007 to September 14, 2008)
Art Gallery of New South Wales (Sydney), November 16, 2007 to February 3, 2008
The J. Paul Getty Museum at the Getty Center (Los Angeles), May 6 to September 14, 2008
Keller, Judith. August Sander: German Portraits, 1918-1933, exh. brochure (Los Angeles: The J. Paul Getty Museum) center #7
---