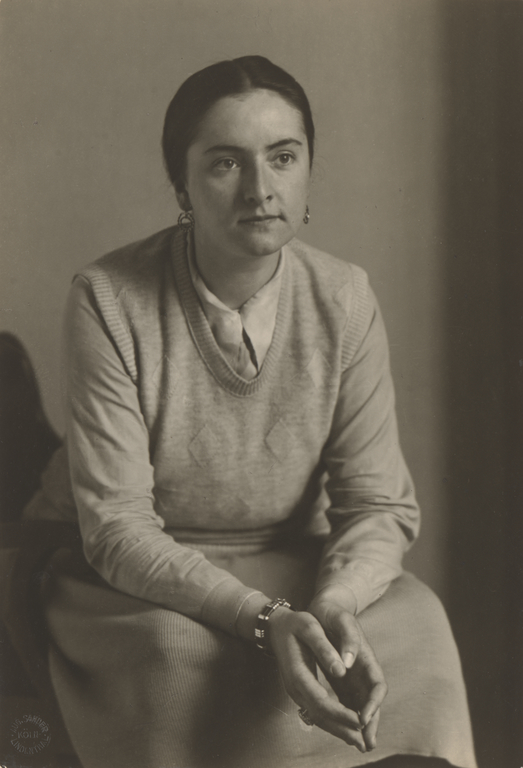 Sculptress (Bildhauerin) [Ingeborg von Rath]

August Sander (German, 1876 - 1964) 22.1 x 15.2 cm (8 11/16 x 6 in.) 84.XM.126.146
Not currently on view
Title:
Sculptress (Bildhauerin) [Ingeborg von Rath]
Place:
Bonn, Germany (Place created)

Dimensions:
22.1 x 15.2 cm (8 11/16 x 6 in.)
Ingeborg vom Rath, a sculptor, leans forward as if she were attentively listening to someone outside the photograph's frame. Her vacant expression, however, suggests that she is engaged in thought or daydreaming.

August Sander began acquainting himself with Cologne's art circle in the early 1920s, and he photographed many painters, sculptors, and architects. Many of his artist portraits contain samples of the subject's work; this example is rather unusual in that it does not include any of vom Rath's sculpture. Believing that an individual's face "portrayed not just the person's inner character, but also his trade, economic experience, and social position," Sander probably felt that he could convey vom Rath's identity as an artist without representing her work. She appears to have been an assertive woman, and the prominent position of her hands-the tools of her trade- strongly hint at her occupation.
-
Gunther Sander, German, 1907 - 1987
August Sander: Photographs from the J. Paul Getty Museum (September 22 to October 30, 1988)
Stiftung Bahnhof Rolandseck, September 22 to October 30, 1988
August Sander: German Portraits, 1918-1933 (March 6 to June 24, 2001)
The J. Paul Getty Museum at the Getty Center (Los Angeles), March 6 to June 24, 2001
August Sander's People of the 20th Century (November 16, 2007 to September 14, 2008)
Art Gallery of New South Wales (Sydney), November 16, 2007 to February 3, 2008
The J. Paul Getty Museum at the Getty Center (Los Angeles), May 6 to September 14, 2008
---