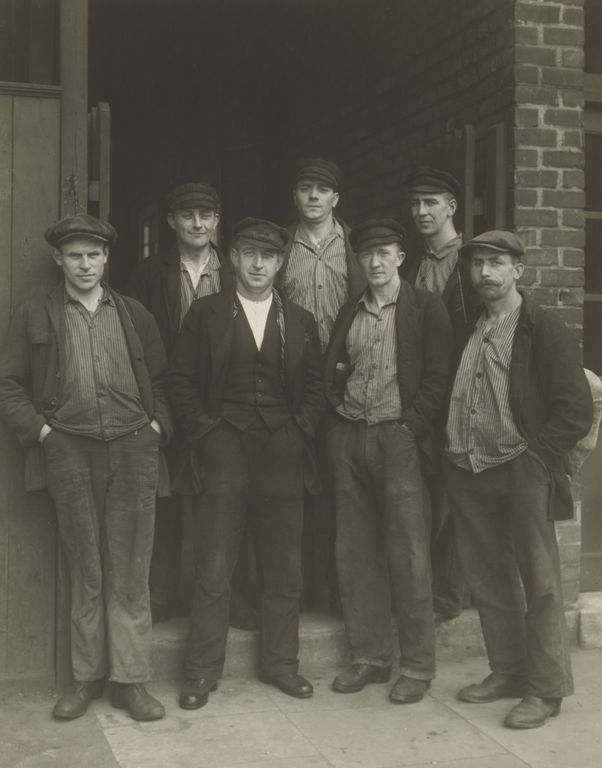 [Dockworkers (Schauerleute)]
Not currently on view
Title:
[Dockworkers (Schauerleute)]
Dimensions:
21.9 × 17.5 cm (8 5/8 × 6 7/8 in.)
Object Description
In this image [Sander] lends his subjects a surprisingly inoffensive air, thus distracting from any mutinous ambitions they might harbor.

August Sander usually photographed industrial workers in a way that obscured their role within the German economy. When photographing these dockworkers, he also obscured the subjects' role in German politics. Working conditions in naval yards were known to be quite poor and gave rise to numerous militant uprisings; in this group image, however, each man maintains a dignified posture, a stance no doubt derived from occupational pride.

Lined up shoulder-to-shoulder with their hands stuffed in their pockets, these dockworkers form an imposing barricade to the entrance of what is probably a waterfront warehouse. A foreman in white shirt and black vest stands in the front row flanked by workers in the scruffy, striped shirts that signal their place in the labor hierarchy.
Exhibitions
August Sander: Photographs from the J. Paul Getty Museum (September 22 to October 30, 1988)
Stiftung Bahnhof Rolandseck, September 22 to October 30, 1988
August Sander: German Portraits, 1918-1933 (March 6 to June 24, 2001)
The J. Paul Getty Museum at the Getty Center (Los Angeles), March 6 to June 24, 2001
August Sander's People of the 20th Century (November 16, 2007 to September 14, 2008)
Art Gallery of New South Wales (Sydney), November 16, 2007 to February 3, 2008
The J. Paul Getty Museum at the Getty Center (Los Angeles), May 6 to September 14, 2008
---