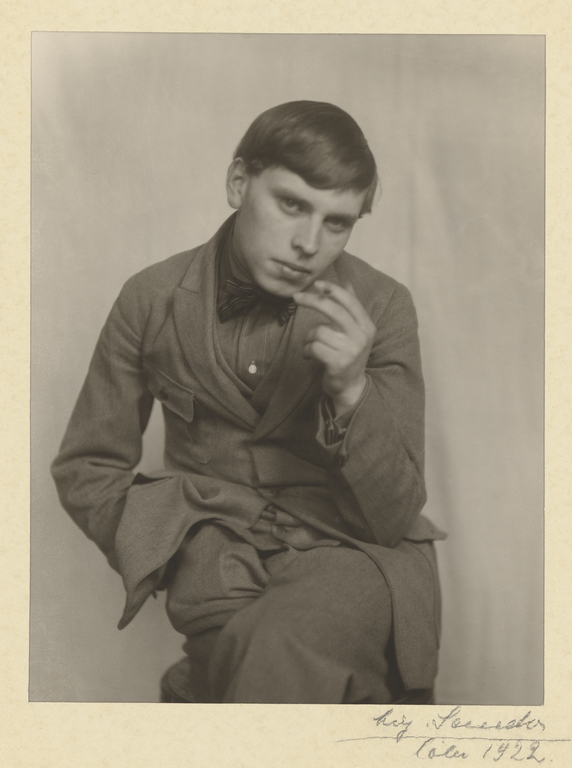 Bohemian [the Painter Gottfried Brockmann, Cologne]

August Sander (German, 1876 - 1964) 21.9 × 17 cm (8 5/8 × 6 11/16 in.) 84.XM.126.131
Not currently on view
Title:
Bohemian [the Painter Gottfried Brockmann, Cologne]
Place:
Cologne, Germany (Place Created)

Dimensions:
21.9 × 17 cm (8 5/8 × 6 11/16 in.)
Object Description
Gottfried Brockmann, a young painter associated with a group of artists known as the Cologne Progressives, leans forward with his head slightly tilted. The feminine manner in which he holds his cigarette and crosses his legs breaks all traditional rules of masculinity. August Sander's portrait of the artist he called a bohemian suggests that gender roles in Weimar society may have been far more fluid and complex than even he imagined.

August Sander was a close friend to many of the young artists in Cologne, frequently showing his photographs in their exhibitions, or trading his images for their paintings. Indeed, Brockmann lived with Sander's family for almost two years, during which time they had numerous discussions about the political, social, and aesthetic concerns of the day.
Exhibitions
August Sander: Photographs from the J. Paul Getty Museum (September 22 to October 30, 1988)
Stiftung Bahnhof Rolandseck, September 22 to October 30, 1988
August Sander: Faces of the German People (May 21 to November 3, 1991)
The J. Paul Getty Museum (Malibu), May 21 to July 28, 1991
J.B. Speed Art Museum (Louisville), September 17 to November 3, 1991
August Sander: German Portraits, 1918-1933 (March 6 to June 24, 2001)
The J. Paul Getty Museum at the Getty Center (Los Angeles), March 6 to June 24, 2001
August Sander's People of the 20th Century (November 16, 2007 to September 14, 2008)
Art Gallery of New South Wales (Sydney), November 16, 2007 to February 3, 2008
The J. Paul Getty Museum at the Getty Center (Los Angeles), May 6 to September 14, 2008
---