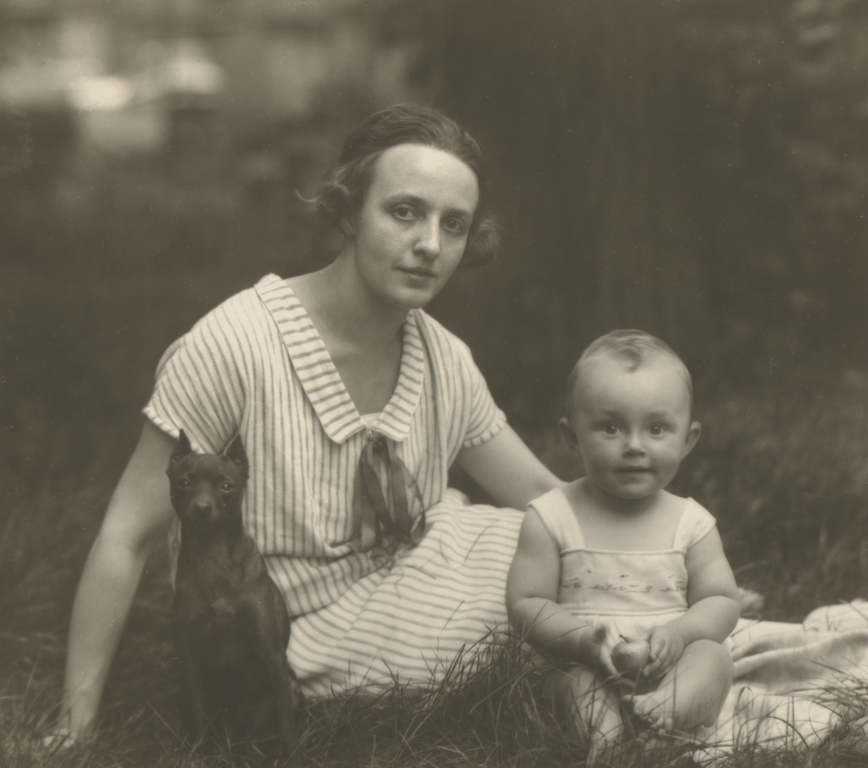 [Young Bourgeois Mother (Junge Mutter, bürgerlich)]

August Sander (German, 1876 - 1964) 14.8 x 17 cm (5 13/16 x 6 11/16 in.) 84.XM.126.122
Not currently on view
Title:
[Young Bourgeois Mother (Junge Mutter, bürgerlich)]
Place:
Cologne, Germany (Place created)

Dimensions:
14.8 x 17 cm (5 13/16 x 6 11/16 in.)
In this idyllic image of Frau Steinrücke with her child and small dog, August Sander depicted a scene of leisure specifically associated with middle-class Weimar Germany. Seated on the grass, the baby smiles at the camera while the mother gazes contentedly and the dog stands proudly beside her. The absent father is presumably at work.

One scholar astutely observed that, although "Sander claimed that his photographs were primarily documentary, . . . they also inevitably articulated anxieties and desires shared by many of his contemporaries." Germany in the mid-1920s experienced political and economic chaos. By posing a woman with her child in a landscape, Sander emphasized women's domestic role and tie to nature rather than their increasing political and wage-earning power. Perhaps because it reinforces traditional social tenets, this portrait conveys a sense of stability and calm, despite the fact that it was made during a period of fragmentation and turmoil.
1984 -
Gunther Sander, German, 1907 - 1987
August Sander: Photographs from the J. Paul Getty Museum (September 22 to October 30, 1988)
Stiftung Bahnhof Rolandseck, September 22 to October 30, 1988
August Sander: Faces of the German People (May 21 to November 3, 1991)
The J. Paul Getty Museum (Malibu), May 21 to July 28, 1991
J.B. Speed Art Museum (Louisville), September 17 to November 3, 1991
August Sander: German Portraits, 1918-1933 (March 6 to June 24, 2001)
The J. Paul Getty Museum at the Getty Center (Los Angeles), March 6 to June 24, 2001
August Sander's People of the 20th Century (November 16, 2007 to September 14, 2008)
Art Gallery of New South Wales (Sydney), November 16, 2007 to February 3, 2008
The J. Paul Getty Museum at the Getty Center (Los Angeles), May 6 to September 14, 2008
Convergences: Selected Photographs from the Permanent Collection (July 8 to October 19, 2014)
The J. Paul Getty Museum at the Getty Center (Los Angeles), July 8 to October 19, 2014
---