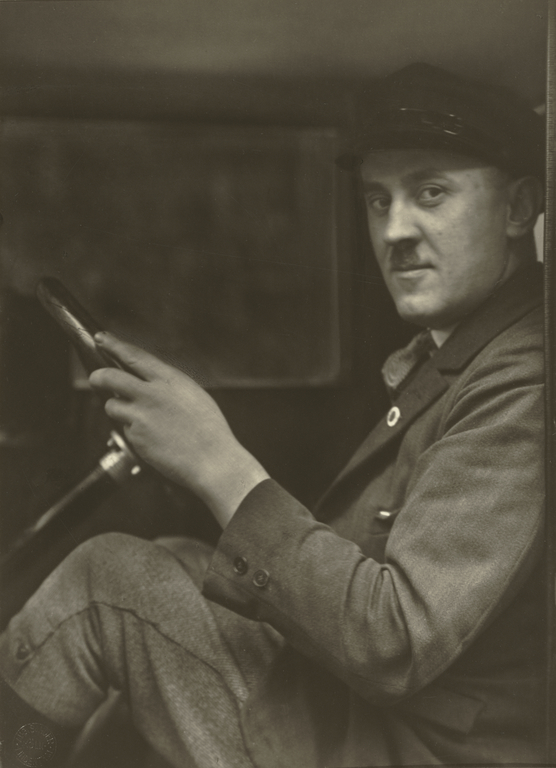 [Taxi driver (Taxifahrer)]

August Sander (German, 1876 - 1964) 21.9 × 15.9 cm (8 5/8 × 6 1/4 in.) 84.XM.126.120
Not currently on view
Title:
[Taxi driver (Taxifahrer)]
Dimensions:
21.9 × 15.9 cm (8 5/8 × 6 1/4 in.)
Object Description
We can tell from appearance the work someone does or does not do; we can read in his face whether he is happy or troubled, for life unavoidably leaves its trace there.

August Sander professed his belief in physiognomy in a 1931 radio lecture; however, he still chose to photograph this taxi driver at the wheel of his cab, visually linking the man and his profession. Sander also made many portraits of workers in his studio, without the tools of their trade to act as props or visual clues to their profession.

The original image was not so tightly arranged. Sander isolated and enlarged this detail from the original composition. One historian has noted the evocative relationship of the man's body to the space surrounding it: "By tightly inscribing his subject into the frame of his vehicle, Sander creates an image of almost claustrophobic intensity. It is suggestive, perhaps, of the driver's entrapment in a narrow, limited world."
Exhibitions
August Sander: Faces of the German People (May 21 to November 3, 1991)
The J. Paul Getty Museum (Malibu), May 21 to July 28, 1991
J.B. Speed Art Museum (Louisville), September 17 to November 3, 1991
August Sander: German Portraits, 1918-1933 (March 6 to June 24, 2001)
The J. Paul Getty Museum at the Getty Center (Los Angeles), March 6 to June 24, 2001
August Sander's People of the 20th Century (November 16, 2007 to September 14, 2008)
The J. Paul Getty Museum at the Getty Center (Los Angeles), May 6 to September 14, 2008
---