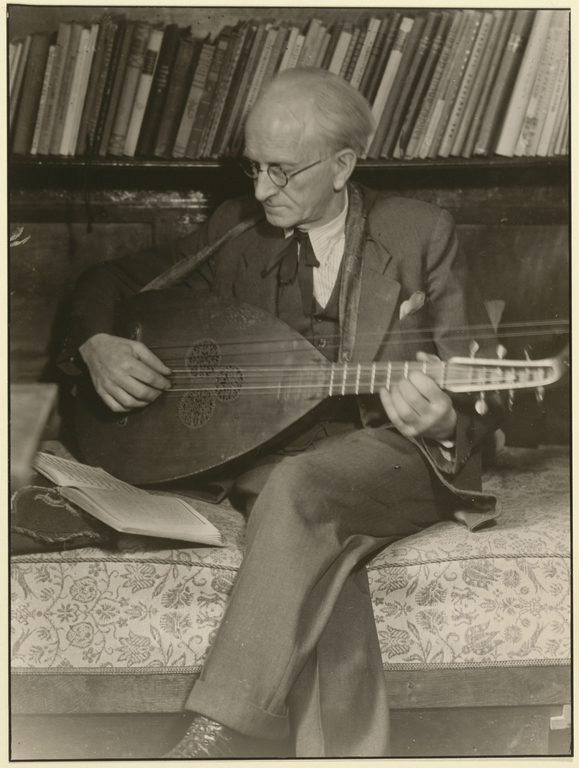 [August Sander, Cologne]

August Sander (German, 1876 - 1964) 22.5 x 16.8 cm (8 7/8 x 6 5/8 in.) 84.XM.126.68
Not currently on view
Place:
Cologne, Germany (Place created)

Dimensions:
22.5 x 16.8 cm (8 7/8 x 6 5/8 in.)
In this self-portrait, August Sander, at around the age of sixty-five, enjoys one of his favorite activities, playing the lute. Aside from being a successful photographer, Sander was also an accomplished musician--he once even considered a career as a concert lute player. Sander valued the rural life and the communal ideals of pre-industrial Germany; thus it is not surprising to find that his repertoire was made up mostly of German folk songs. Nor is it surprising to learn that music was vital in the Sander household. All of the children were given extensive musical training. His eldest son and daughter played the guitar, while his youngest son was an accomplished cellist. Sander often played for friends in the Cologne art circle, who would come over in the evenings to enjoy his homemade rhubarb wine.

This self-portrait also depicts Sander's library. Though not formally educated, he read voraciously, and was especially interested in the works of Goethe, Schiller, Schopenhauer, and Nietzsche, as well as Rainer Maria Rilke and Thomas Mann. By surrounding himself with signifiers of erudition, Sander presented himself as a learned individual and illustrated for modern viewers his veneration of high German culture.
-
Gunther Sander, German, 1907 - 1987
August Sander: German Portraits, 1918-1933 (March 6 to June 24, 2001)
The J. Paul Getty Museum at the Getty Center (Los Angeles), March 6 to June 24, 2001
---