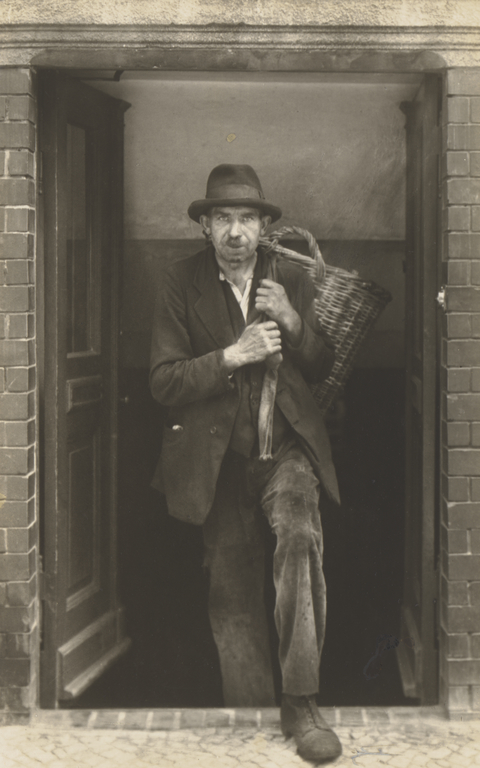 [Coal Carrier, Berlin (Berliner Kohlenträger)]

August Sander (German, 1876 - 1964) 24.1 x 15.2 cm (9 1/2 x 6 in.) 84.XM.126.52
Not currently on view
Title:
[Coal Carrier, Berlin (Berliner Kohlenträger)]
Place:
Berlin, Germany (Place created)

Dimensions:
24.1 x 15.2 cm (9 1/2 x 6 in.)
August Sander, whose systematic documentation of the German people included manual laborers, captured this unshaven coal carrier stepping out of a building with his burden slung over his shoulder. According to Sander's hierarchical theory, the laborer's place was on the lower rungs of society. By photographing his subject emerging from a dark basement, Sander underscored his theory quite literally.

In this image, the doorway framing the laborer sets a boundary between the bright light of day and the shadowy depths behind him. The man's bent leg, which seems to propel him forward, lends dynamism to a composition that might otherwise have been static.
-
Gunther Sander, German, 1907 - 1987
August Sander: Photographs from the J. Paul Getty Museum (September 22 to October 30, 1988)
Stiftung Bahnhof Rolandseck, September 22 to October 30, 1988
August Sander: Faces of the German People (May 21 to November 3, 1991)
The J. Paul Getty Museum (Malibu), May 21 to July 28, 1991
J.B. Speed Art Museum (Louisville), September 17 to November 3, 1991
August Sander: German Portraits, 1918-1933 (March 6 to June 24, 2001)
The J. Paul Getty Museum at the Getty Center (Los Angeles), March 6 to June 24, 2001
August Sander's People of the 20th Century (November 16, 2007 to September 14, 2008)
Art Gallery of New South Wales (Sydney), November 16, 2007 to February 3, 2008
The J. Paul Getty Museum at the Getty Center (Los Angeles), May 6 to September 14, 2008
Lange, Susanne and Gabriele Conrath-Scholl. August Sander: People of the 20th Century. (Die Photographische Sammlung: SK Stiftung Kultur, Cologne 2002) II/10/1
---