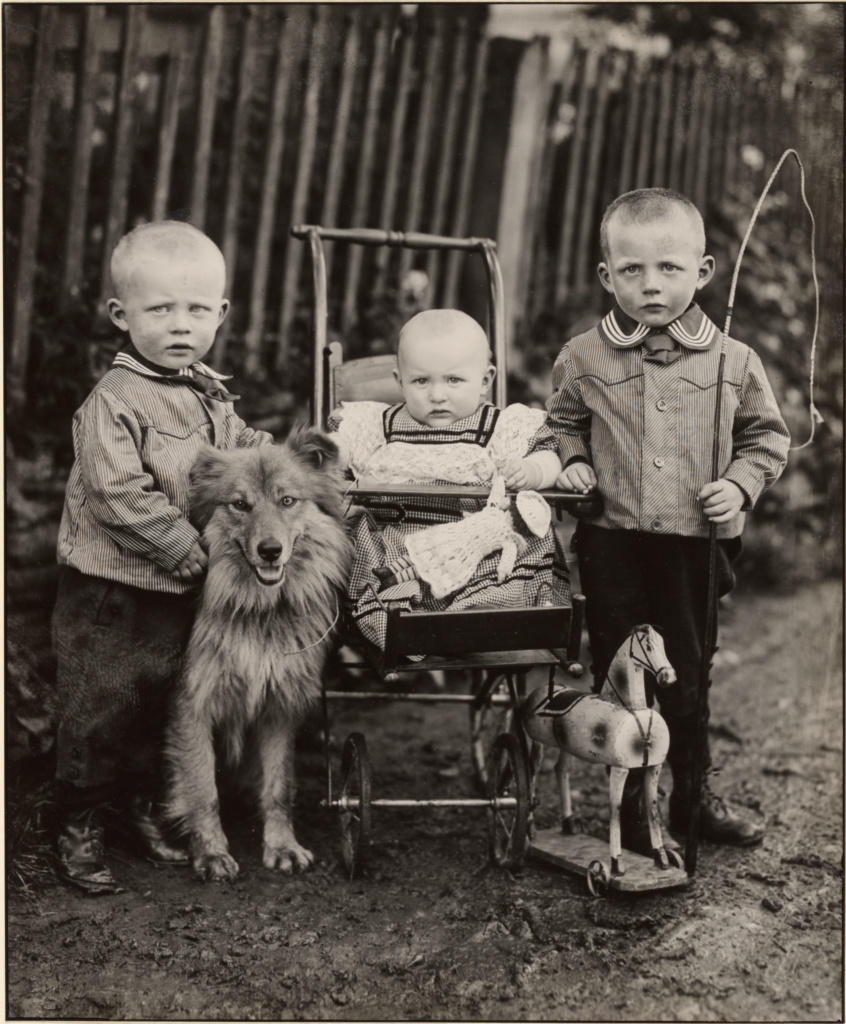 Farm Children, Westerwald

August Sander (German, 1876 - 1964) 27.6 × 22.7 cm (10 7/8 × 8 15/16 in.) 84.XM.126.4
Not currently on view
Title:
Farm Children, Westerwald
Place:
Westerwald, Germany, Europe (Place created)

Dimensions:
27.6 × 22.7 cm (10 7/8 × 8 15/16 in.)
On a muddy roadside that reveals evidence of recent rain stand three children from a farming family with their dog and a toy horse. August Sander captured the familial relationship by focusing on the similarities in appearance and the intimacy of the grouping. The boy on the right, obviously the eldest, holds a toy whip erect like a staff, as though he already assumes his role as the leader of the group. Both of the older children position themselves as protective brothers to their infant sister, who sits in the carriage holding a doll. One brother rests his hand next to her on the carriage handle, while the other leans in toward her, possibly holding her hand behind the dog's head.
-
Gunther Sander, German, 1907 - 1987
August Sander: Photographs from the J. Paul Getty Museum (September 22 to October 30, 1988)
Stiftung Bahnhof Rolandseck, September 22 to October 30, 1988
On the Art of Fixing a Shadow: 150 Years of Photography (May 7, 1989 to February 25, 1990)
National Gallery of Art (Washington, D.C.), May 7 to July 30, 1989
The Art Institute of Chicago, September 9 to November 26, 1989
Los Angeles County Museum of Art (Los Angeles), December 29, 1989 to February 25, 1990
August Sander: Faces of the German People (May 21 to November 3, 1991)
The J. Paul Getty Museum (Malibu), May 21 to July 28, 1991
J.B. Speed Art Museum (Louisville), September 17 to November 3, 1991
August Sander's People of the 20th Century (November 16, 2007 to September 14, 2008)
Art Gallery of New South Wales (Sydney), November 16, 2007 to February 3, 2008
The J. Paul Getty Museum at the Getty Center (Los Angeles), May 6 to September 14, 2008
---