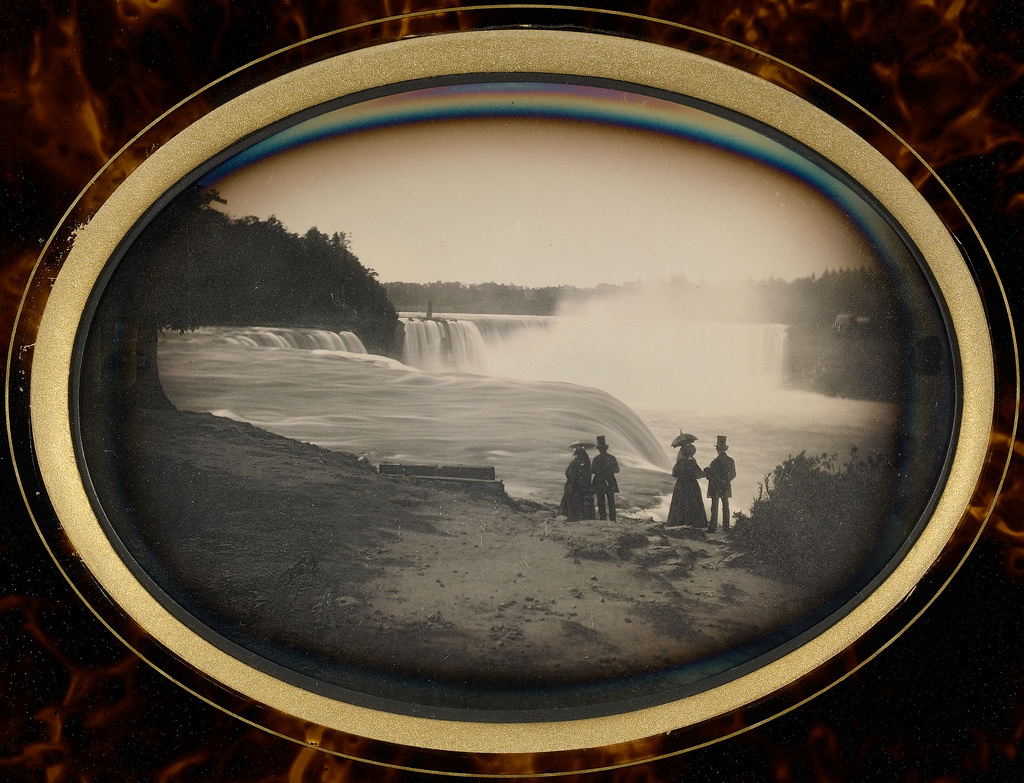 Open Content images tend to be large in file-size. To avoid potential data charges from your carrier, we recommend making sure your device is connected to a Wi-Fi network before downloading.
Not currently on view
In the 1800s Prospect Point at Niagara Falls was a popular destination for travelers in search of a transcendent encounter with nature. The falls were revered as a sacred place that was recognized by the Catholic Church in 1861 as a "pilgrim shrine," where the faithful could contemplate the landscape as an example of divine majesty.

Two well-dressed couples are seen from behind as they stand on the shore downstream from the falls, gazing at its majestic splendor. The silhouetted forms--women wearing full skirts and bonnets and carrying umbrellas and men in stovepipe hats--are sharply outlined against the patch of shore and expansive, white foam.

Platt D. Babbitt would customarily set up his camera in an open-sided pavilion and photograph groups of tourists admiring the falls without their knowledge, as he appears to have done here. Later he would sell the unsuspecting subjects their daguerreotype likenesses alongside the natural wonder.
1984 -
Samuel Wagstaff, Jr., American, 1921 - 1987
Capturing Time: A Celebration of Photographs (December 1, 1997 to March 1, 1998)
The J. Paul Getty Museum at the Getty Center (Los Angeles), December 1, 1997 to March 1, 1998
In Focus: The Landscape (August 26, 2008 to January 11, 2009)
The J. Paul Getty Museum at the Getty Center (Los Angeles), August 26, 2008 to January 11, 2009
In Focus: Play (December 23, 2014 to May 10, 2015)
The J. Paul Getty Museum at the Getty Center (Los Angeles), December 23, 2014 to May 10, 2015
The Thrill of the Chase: The Wagstaff Collection of Photographs at the J. Paul Getty Museum (March 15, 2016 to May 7, 2017)
The J. Paul Getty Museum at the Getty Center (Los Angeles), March 15 to July 31, 2016
---