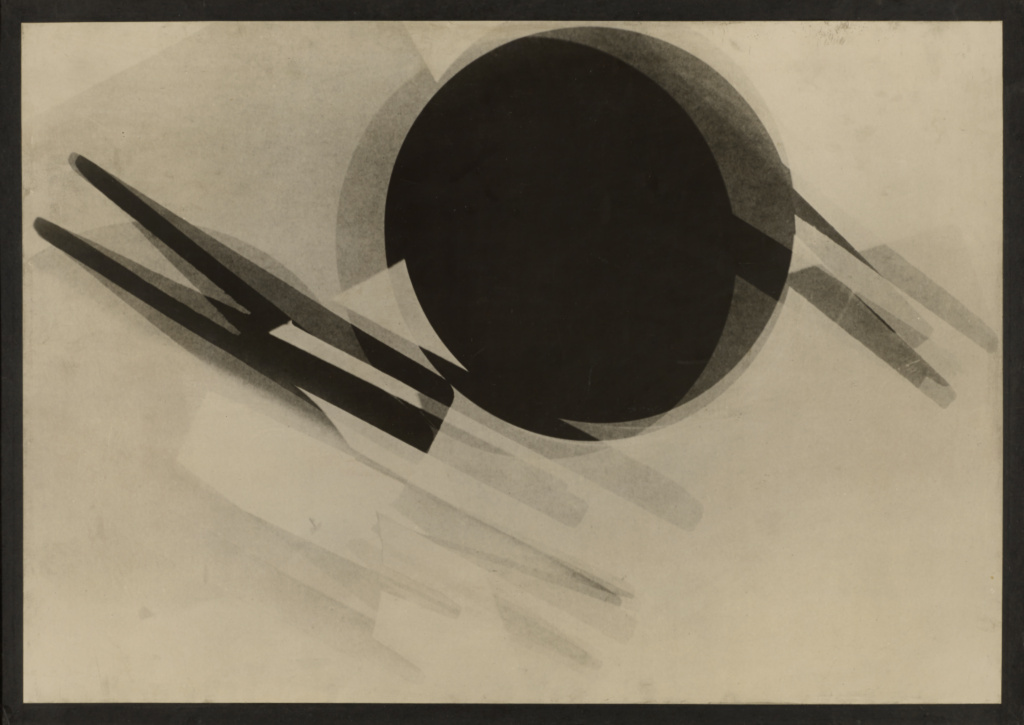 Der Spiegel. Fotogram Nr. 1

László Moholy-Nagy (American, born Hungary, 1895 - 1946) 66.8 × 92.1 cm (26 5/16 × 36 1/4 in.) 84.XF.450
Not currently on view
Title:
Der Spiegel. Fotogram Nr. 1
Place:
Germany, Europe (Place created)

Date:
negative 1922–1923; print about 1928
Dimensions:
66.8 × 92.1 cm (26 5/16 × 36 1/4 in.)
Copyright:
© 2014 Estate of László Moholy-Nagy / Artists Rights Society (ARS), New York
László Moholy-Nagy created this abstract photogram by placing objects on light-sensitive paper and exposing them to light without the use of a camera. The title of this photogram refers to a mirror; the shapes in this composition may have been made using a circular looking glass and its reflections. The large size of the print, approximately two by three feet, suggests that Moholy-Nagy used an earlier photogram as a negative to make this enlargement, thus this image is a "mirror," or reversal of the earlier composition. The shadow effects of the circular and angular forms energize the space, suggesting movement.
- 1984
Samuel Wagstaff, Jr., American, 1921 - 1987, sold to the J. Paul Getty Museum, 1984.
Photographs from the Sam Wagstaff Collection (November 15, 1985 to January 11, 1986)
The Photographers' Gallery (London), November 15, 1985 to January 11, 1986
Experimental Photography: The Painter-Photographer (July 5, 1989 to October 7, 1990)
The J. Paul Getty Museum (Malibu), July 5 to September 26, 1989
Williams College Museum of Art (Williamstown), July 28 to October 7, 1990
Arrows of Time: Photographs from the J. Paul Getty Museum (January 24 to April 2, 1995)
Armand Hammer Museum of Art and Cultural Center at UCLA (Los Angeles), January 24 to April 2, 1995
Vision in Motion: The Photographs of László Moholy-Nagy (June 27 to October 8, 1995)
The J. Paul Getty Museum (Malibu), June 27 to October 8, 1995
Capturing Time: A Celebration of Photographs (December 1, 1997 to March 1, 1998)
The J. Paul Getty Museum at the Getty Center (Los Angeles), December 1, 1997 to March 1, 1998
Photographers of Genius (March 16 to July 25, 2004)
The J. Paul Getty Museum at the Getty Center (Los Angeles), March 16 to July 25, 2004
Light, Paper, Process: Reinventing Photography (April 14 to September 6, 2015)
The J. Paul Getty Museum at the Getty Center (Los Angeles), April 14 to September 6, 2015
The Thrill of the Chase: The Wagstaff Collection of Photographs at the J. Paul Getty Museum (March 15, 2016 to May 7, 2017)
The J. Paul Getty Museum at the Getty Center (Los Angeles), March 15 to July 31, 2016
Wadsworth Atheneum (Hartford), September 10 to December 11, 2016
Portland Museum of Art (Portland), February 13 to May 7, 2017
---