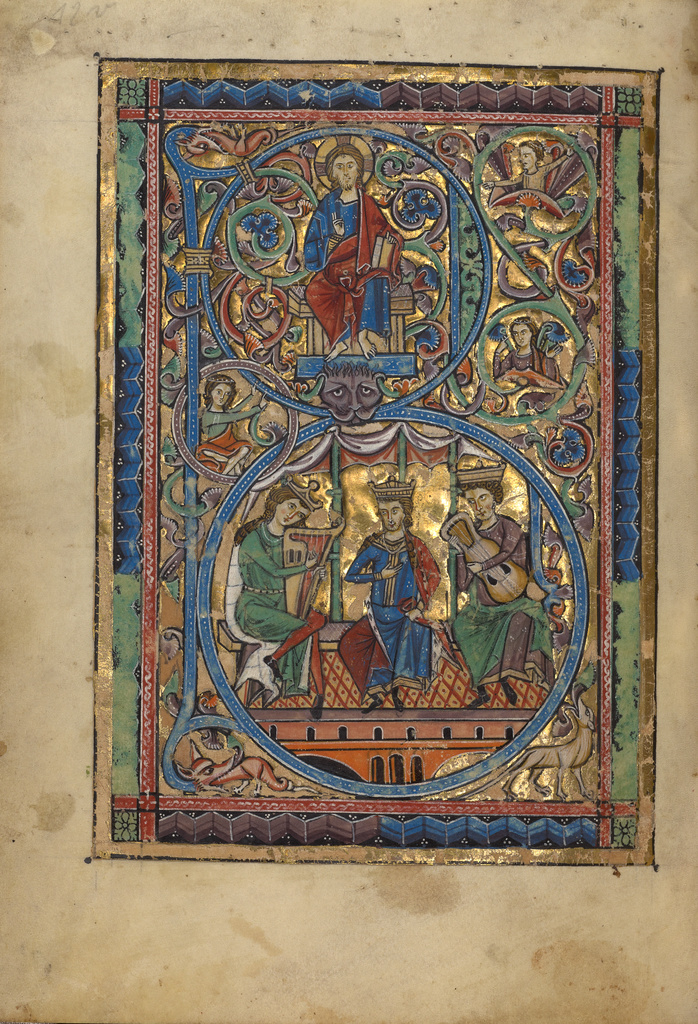 Initial B: Christ in Majesty and David with Musicians

Unknown Leaf: 22.7 x 15.7 cm (8 15/16 x 6 3/16 in.) Ms. Ludwig VIII 2, fol. 11v
Open Content images tend to be large in file-size. To avoid potential data charges from your carrier, we recommend making sure your device is connected to a Wi-Fi network before downloading.
This image is available for download, without charge, under the Getty's Open Content Program.
Not currently on view
Title:
Initial B: Christ in Majesty and David with Musicians
Artist/Maker(s):
Culture:
Place(s):
Würzburg, Germany (Place created)
Date:
Medium:
Tempera colors, gold leaf, and silver leaf on parchment
Dimensions:
Leaf: 22.7 x 15.7 cm (8 15/16 x 6 3/16 in.)
The Book of Psalms begins with the words Beatus vir (Happy is the man). To mark the beginning of the text of the psalms in manuscripts, an entire page is often devoted to the initial B from this verse, almost always richly illuminated. In this psalter, King David, who was believed to have written the psalms, sits in the lower lobe of the initial B. The artist presents David in his role as composer of the psalms, aided by two musicians, one with a harp, the other with a lyre. David sits enthroned in the center, aligned with the figure of Jesus blessing above. This typological arrangement presents David as an Old Testament prefiguration of Christ.

The artist created an elaborate design to introduce the text of the psalms. Blue bands decorated with silver and held together by a biting animal head and gold clasps form the basic shape of the letter, which is entwined in curling tendrils of green, red, and purple. Animals and human forms inhabit these vine scrolls. The brilliant deep colors and the figures' sumptuous dress add to the majesty of the image.
The Decorated Letter (July 21 to October 6, 1987)
The J. Paul Getty Museum, (Malibu), July 21 to October 6, 1987, (Cat.)
A Thousand Years of the Bible: Medieval and Renaissance Manuscripts (January 15 to March 31, 1991)
The J. Paul Getty Museum, (Malibu), January 15 to March 31, 1991, (Cat.)
The Decorated Letter (January 14 to March 29, 1992)
The J. Paul Getty Museum, (Malibu), January 14 to March 29, 1992, (Cat.)
The Psalms and Their Illustration (April 27 to July 3, 1993)
The J. Paul Getty Museum, (Malibu), April 27 to July 3, 1993, (Cat.)
Harmonies of Heaven and Earth: Musicians and Instruments in Medieval and Renaissance Manuscripts (January 25 to April 10, 1994)
The J. Paul Getty Museum, (Malibu), January 25 to April 10, 1994, (Cat.)
The Psalms and Their Illustration (February 1 to April 23, 2000)
The J. Paul Getty Museum at the Getty Center, (Los Angeles), February 1 to April 23, 2000, (Cat.)
The Decorated Letter (2007) (November 13, 2007 to January 27, 2008)
The J. Paul Getty Museum at the Getty Center, (Los Angeles), November 13, 2007 to January 27, 2008, (Cat.)
---