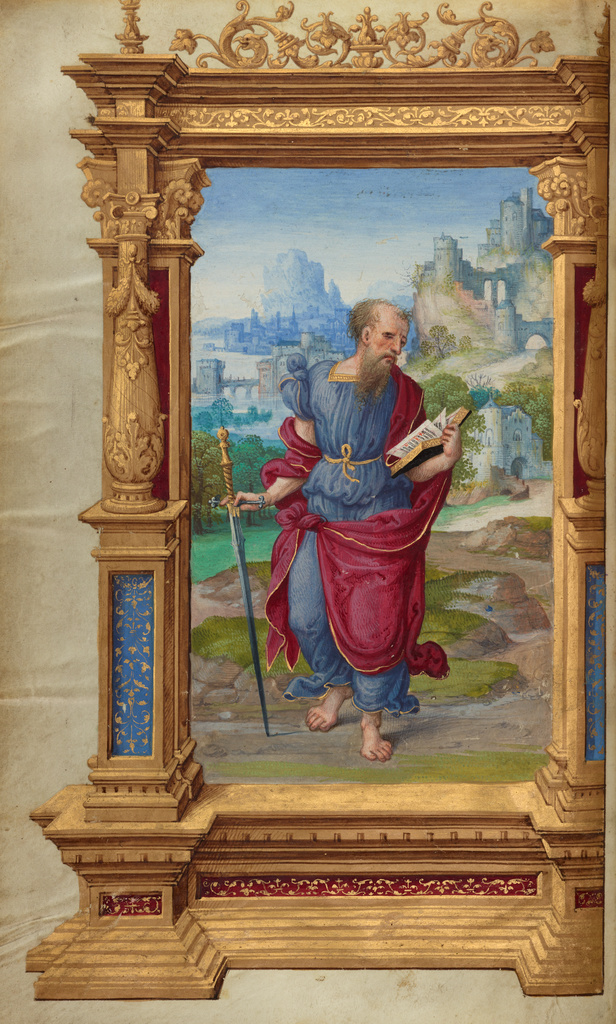 Open Content images tend to be large in file-size. To avoid potential data charges from your carrier, we recommend making sure your device is connected to a Wi-Fi network before downloading.
Place:
Tours France Paris France (Place created)

Medium:
Tempera colors and gold paint on parchment
Dimensions:
Leaf: 16.5 x 10.3 cm (6 1/2 x 4 1/16 in.)
The apostle Paul stands reading an open book before a spacious setting of meandering hills dotted with architectural structures. Voluminous drapery cannot conceal his rather strong and muscular body. An elaborate architectural frame reminiscent of the frames of contemporary Italian altarpieces reinforces the saint's majestic presence.

This small painting in a book achieves a monumentality usually associated with larger independent paintings hung on a wall. From the art of the Italian Renaissance, particularly that of Michelangelo, the Master of the Getty Epistles learned to make powerful figures like Paul. From Flemish masters, the artist learned to set his figures within a deep panoramic landscape.
Medieval and Renaissance Manuscripts (July 1 to September 30, 1984)
The J. Paul Getty Museum (Malibu), July 1 to September 30, 1984
Illuminated French Manuscripts of the Later Middle Ages (October 20, 1987 to January 3, 1988)
The J. Paul Getty Museum (Malibu), October 20, 1987 to January 3, 1988
The Art of the Written Word: Medieval and Renaissance Calligraphy in Illuminated Manuscripts (January 16 to April 1, 1990)
The J. Paul Getty Museum (Malibu), January 16 to April 1, 1990
A Thousand Years of the Bible: Medieval and Renaissance Manuscripts (January 15 to March 31, 1991)
The J. Paul Getty Museum (Malibu), January 15 to March 31, 1991
French Illumination in the Late Middle Ages (October 15 to December 29, 1991)
The J. Paul Getty Museum (Malibu), October 15 to December 29, 1991
Fouquet's Century: Transformations in French Painting, 1415-1530 (April 26 to July 10, 1994)
The J. Paul Getty Museum (Malibu), April 26 to July 10, 1994
Faces of Power and Piety: Portraits in Medieval and Renaissance Manuscripts (February 2 to April 18, 1999)
The J. Paul Getty Museum at the Getty Center (Los Angeles), February 2 to April 18, 1999
French Manuscript Illumination of the Late Middle Ages (August 3 to September 26, 1999)
The J. Paul Getty Museum at the Getty Center (Los Angeles), August 3 to September 26, 1999
Illuminating Color (May 22 to August 26, 2001)
The J. Paul Getty Museum at the Getty Center (Los Angeles), May 22 to August 26, 2001
Landscape in the Renaissance (August 1 to October 15, 2006)
The J. Paul Getty Museum at the Getty Center (Los Angeles), August 1 to October 15, 2006
Out of Bounds: Images in the Margins of Illuminated Manuscripts (September 1 to November 8, 2009)
The J. Paul Getty Museum at the Getty Center (Los Angeles), September 1 to November 8, 2009
---