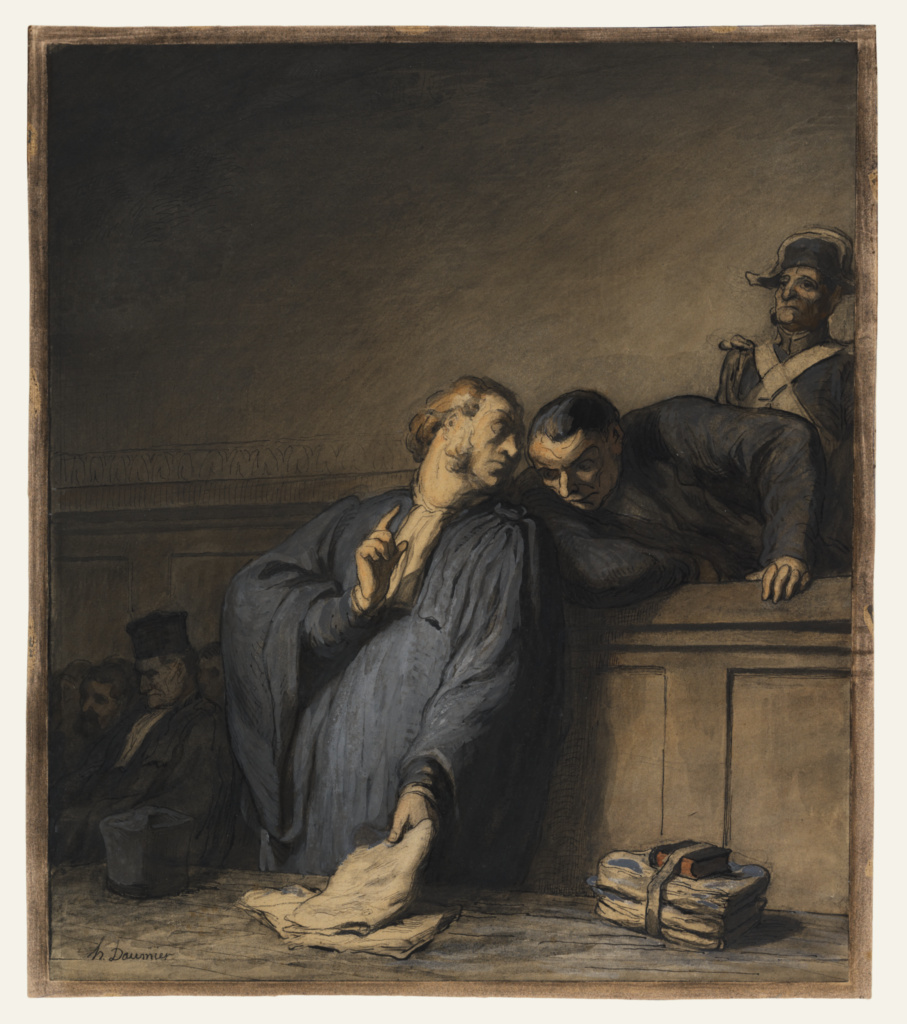 This image is available for download, without charge, under the Getty's Open Content Program.

A Criminal Case

Honoré Daumier (French, 1808 - 1879) 38.4 × 32.5 cm (15 1/8 × 12 13/16 in.) 89.GA.33
Open Content images tend to be large in file-size. To avoid potential data charges from your carrier, we recommend making sure your device is connected to a Wi-Fi network before downloading.
Not currently on view
Medium:
Watercolor and gouache with pen, brown ink and black chalk
Dimensions:
38.4 × 32.5 cm (15 1/8 × 12 13/16 in.)
An astute observer of human nature and an often biting satirist, Honoré Daumier here masterfully employed watercolor to illustrate the foibles of the French judicial system. Poverty forced Daumier to begin work at an early age; he once took a job as a messenger for the city's law courts, where he was exposed to the complexities and inequities of the legal system. The strong, dramatic diagonal of this composition focuses the viewer on the accused murderer. He leans over the dock to consult with his lawyer, who clearly controls the exchange, raising his right hand and seizing a sheaf of papers for reference. In contrast to the well-groomed and elegant lawyer, the criminal is wild-eyed and coarse. In the background a guard stands stiffly, oblivious to the exchange before him. In the gray courtroom, the empty space behind the guard suggests an air of anxiousness and uncertainty.
about 1878
Charles de Bériot (Paris)
about 1906
Madame Albert Esnault-Pelterie (Paris)
Exposition des peintures et dessins de H. Daumier (1878) (225)
Durand-Ruel & Cie (Paris), 1878
Exposition internationale universelle de 1900 (April 15 to November 12, 1900) (847)
Galeries nationales du Grand Palais (Paris), April 15 to November 12, 1900
Daumier: Peintures, aquarelles, dessins (1934) (136; catalogue by C. Sterling)
Galeries nationales du Grand Palais (Paris), 1934
Réhabilitation du sujet (November 17 to December 9, 1934) (79)
Galerie A. Seligmann (Paris), November 17 to December 9, 1934
Daumier 1808-1879 (1937) (35; catalogue by E. van Hook)
Philadelphia Museum of Art (Philadelphia), 1937
French Master Drawings (December 3, 1991 to February 16, 1992)
The J. Paul Getty Museum (Malibu), December 3, 1991 to February 16, 1992
Daumier Drawings (November 17, 1992 to January 17, 1993) (85; catalogue by C. Ives, M. Stuffman and M. Sonnabend)
Städtische Galerie im Städelsches Kunstinstitut (Frankfurt), November 17, 1992 to January 17, 1993
Drawings from the J. Paul Getty Museum (May 24 to August 8, 1993) (36)
The Metropolitan Museum of Art (New York), May 24 to August 8, 1993
Drawings from the J. Paul Getty Museum (October 29, 1993 to January 23, 1994) (102)
Royal Academy of Arts (London), October 29, 1993 to January 23, 1994
The Compositional Drawing from the 16th to the 19th Century (April 16 to June 30, 1996)
The J. Paul Getty Museum (Malibu), April 16 to June 30, 1996
Master Drawings from the J. Paul Getty Museum (December 16, 1997 to February 22, 1998)
The J. Paul Getty Museum at the Getty Center (Los Angeles), December 16, 1997 to February 22, 1998
Daumier, 1808-1879 (June 11, 1999 to May 14, 2000) (281; catalogue by H. Loyrette et. al.)
Galeries nationales du Grand Palais (Paris), October 5, 1999 to January 3, 2000
The Prismatic Palette: Four Centuries of Watercolors (October 5, 2004 to January 2, 2005)
The J. Paul Getty Museum at the Getty Center (Los Angeles), October 5, 2004 to January 2, 2005
Defining Modernity: European Drawings 1800-1900 (June 5 to September 9, 2007)
The J. Paul Getty Museum at the Getty Center (Los Angeles), June 5 to September 9, 2007
A Light Touch: Exploring Humor in Drawing (September 23 to December 7, 2008)
The J. Paul Getty Museum at the Getty Center (Los Angeles), September 23 to December 7, 2008
---