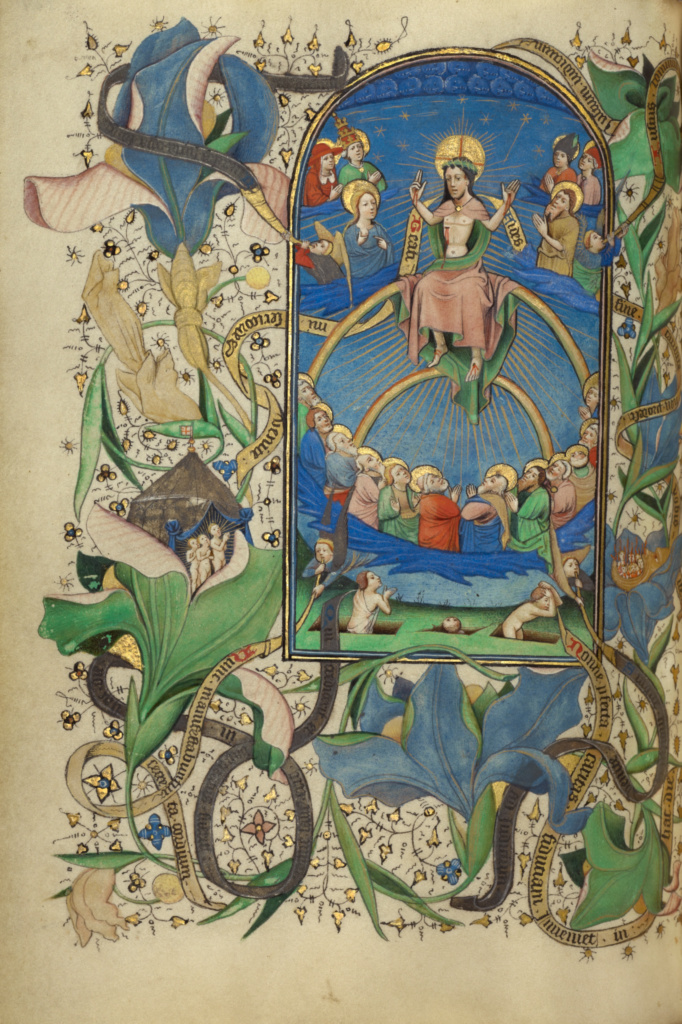 Open Content images tend to be large in file-size. To avoid potential data charges from your carrier, we recommend making sure your device is connected to a Wi-Fi network before downloading.
Place:
Ghent (probably), Belgium (Place created)

Medium:
Tempera colors, gold leaf, and ink on parchment
Dimensions:
Leaf: 19.4 × 14 cm (7 5/8 × 5 1/2 in.)
The Penitential Psalms, a compilation of seven psalms united by the common theme of repentance, are introduced by a most distinctive two-page opening in this Flemish book of hours: a full-page miniature of the Last Judgment paired with a smaller miniature of King David in prayer.

Christ sits on a double rainbow surrounded by Mary, Saint John the Baptist, a cardinal, a pope, two bishops, and a pair of trumpet blowing angels. Below, the twelve apostles look up while praying as the dead rise from their graves. The saved emerge from a tent in the border at the left, while the damned peer helplessly out of a tiny mouth of hell in the border at the right. The image of Christ seated in judgment provided a meditational focus for the recitation of the psalms, urging sinners to repent before death.
Flemish Manuscript Illumination: 1450 - 1550 (April 16 to June 30, 1985)
The J. Paul Getty Museum (Malibu), April 16 to June 30, 1985
The Psalms and Their Illustration (April 27 to July 3, 1993)
The J. Paul Getty Museum (Malibu), April 27 to July 3, 1993
Flemish Illumination of the Late Middle Ages (November 3, 1998 to January 17, 1999)
The J. Paul Getty Museum at the Getty Center (Los Angeles), November 3, 1998 to January 17, 1999
Illuminating Color (May 22 to August 26, 2001)
The J. Paul Getty Museum at the Getty Center (Los Angeles), May 22 to August 26, 2001
Five Hundred Years of Manuscript Illumination (February 11 to June 1, 2003)
The J. Paul Getty Museum at the Getty Center (Los Angeles), February 11 to June 1, 2003
The Old Testament in Medieval Manuscript Illumination (June 1 to August 8, 2010)
The J. Paul Getty Museum at the Getty Center (Los Angeles), June 1 to August 8, 2010
---