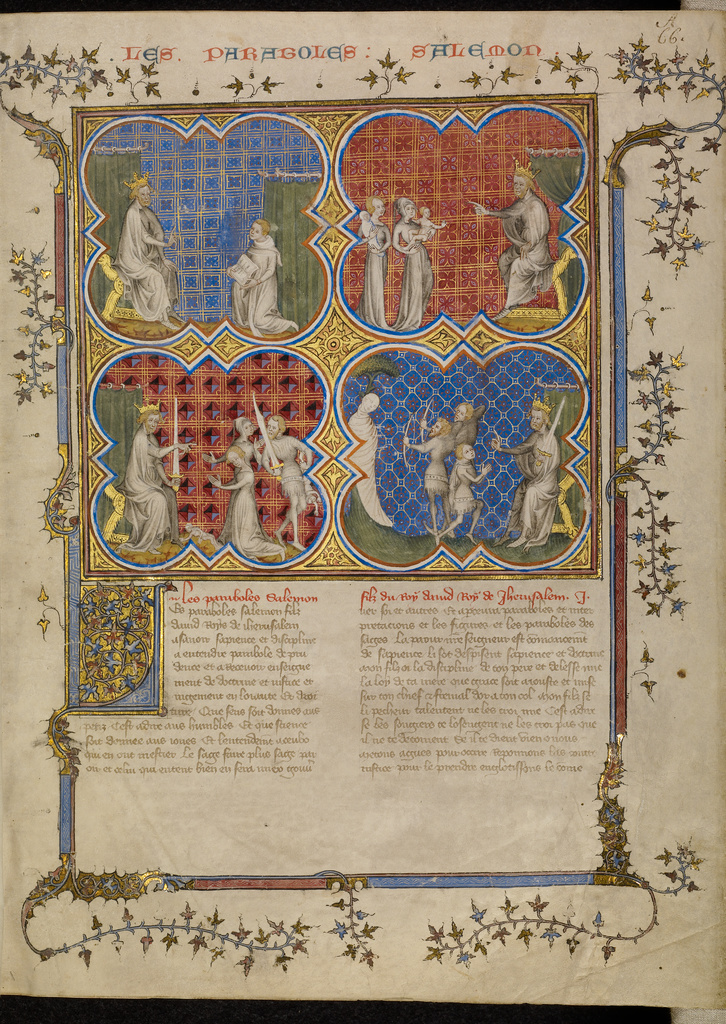 Open Content images tend to be large in file-size. To avoid potential data charges from your carrier, we recommend making sure your device is connected to a Wi-Fi network before downloading.
Title:
Solomon Teaching Rehoboam; The Judgment of Solomon; Solomon Testing the Legitimacy of Three Brothers
Place:
Paris, France (Place created)

Dimensions:
Leaf: 34.9 x 26 cm (13 3/4 x 10 1/4 in.)
This elaborate frontispiece to the second volume of the Historical Bible accompanies the Book of Proverbs, traditionally ascribed to King Solomon. The four scenes show events from the life of Solomon, each of which emphasizes his wisdom. In the upper left, he teaches his son Rehoboam, who kneels before him with a book. The next two scenes tell the story of the Judgment of Solomon. Two women come to Solomon carrying a dead baby and a living one, each claiming the living child as her own. When Solomon orders a soldier to cut the baby in two and give half to each, one woman gives up her claim rather than see the child killed. Solomon recognizes her as the true mother and returns the baby to her.

In the last scene, three men claim to be a dead man's only true son. Solomon states that the legal heir will be able to shoot an arrow into the heart of the father's corpse, knowing that the real son will refuse. Solomon's judgments made him a perfect model of wise kingship for the nobles who would have seen this manuscript.
French Illuminated Manuscripts (July 17 to October 6, 1985)
The J. Paul Getty Museum (Malibu), July 17 to October 6, 1985
Illuminated Gothic Manuscripts (January 20 to April 5, 1987)
The J. Paul Getty Museum (Malibu), January 20 to April 5, 1987
Illuminated French Manuscripts of the Later Middle Ages (October 20, 1987 to January 3, 1988)
The J. Paul Getty Museum (Malibu), October 20, 1987 to January 3, 1988
French Illumination in the Late Middle Ages (October 15 to December 29, 1991)
The J. Paul Getty Museum (Malibu), October 15 to December 29, 1991
Illuminating the Past: Historical Texts of the Middle Ages and Renaissance (February 2 to April 11, 1993)
The J. Paul Getty Museum (Malibu), February 2 to April 11, 1993
Ten Centuries of French Illumination (April 23 to July 7, 1996)
The J. Paul Getty Museum (Malibu), April 23 to July 7, 1996
French Manuscript Illumination of the Late Middle Ages (August 3 to September 26, 1999)
The J. Paul Getty Museum at the Getty Center (Los Angeles), August 3 to September 26, 1999
The Old Testament in Medieval Manuscript Illumination (June 1 to August 8, 2010)
The J. Paul Getty Museum at the Getty Center (Los Angeles), June 1 to August 8, 2010
Stories to Watch: Narrative in Medieval Manuscripts (February 22 to May 15, 2011)
The J. Paul Getty Museum at the Getty Center (Los Angeles), February 22 to May 15, 2011
---