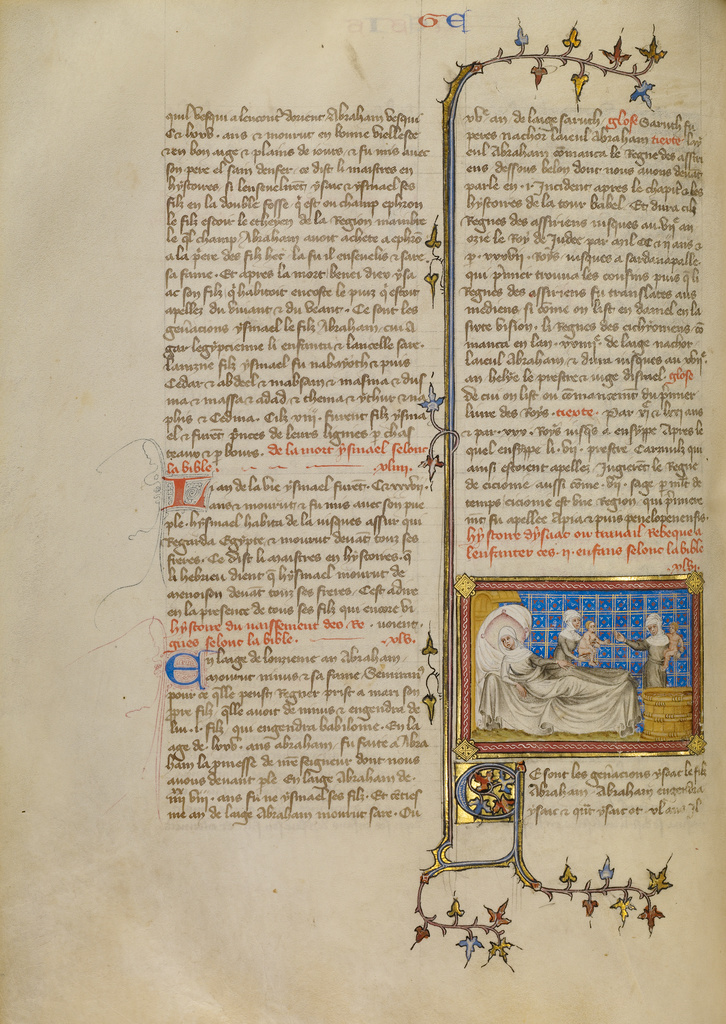 Open Content images tend to be large in file-size. To avoid potential data charges from your carrier, we recommend making sure your device is connected to a Wi-Fi network before downloading.
Title:
The Birth of Esau and Jacob
Place:
Paris, France (Place created)

Medium:
Tempera colors, gold, and ink on parchment
Dimensions:
Leaf: 34.9 x 26 cm (13 3/4 x 10 1/4 in.)
The miniature prefacing the Genesis story of the birth of Isaac's twin sons Esau and Jacob depicts the episode as if it were occurring in the 1300s. Rebecca, wearing a noblewoman's wimple, reclines in a fourteenth-century-style bed after giving birth. As she twists beneath the grisaille bedsheets, the carefully rendered draperies reveal the shape of her body. Against a brightly patterned ground, the midwives prepare the newborn infants for their bath. The women's gestures suggest that they are conversing with one another, lending liveliness to the scene.

In the biblical text, Esau is described as particularly hairy at birth, a detail the illuminator chose not to include. Neither did the illuminator raise the theme of rivalry that would dominate the brothers' relationship.
---