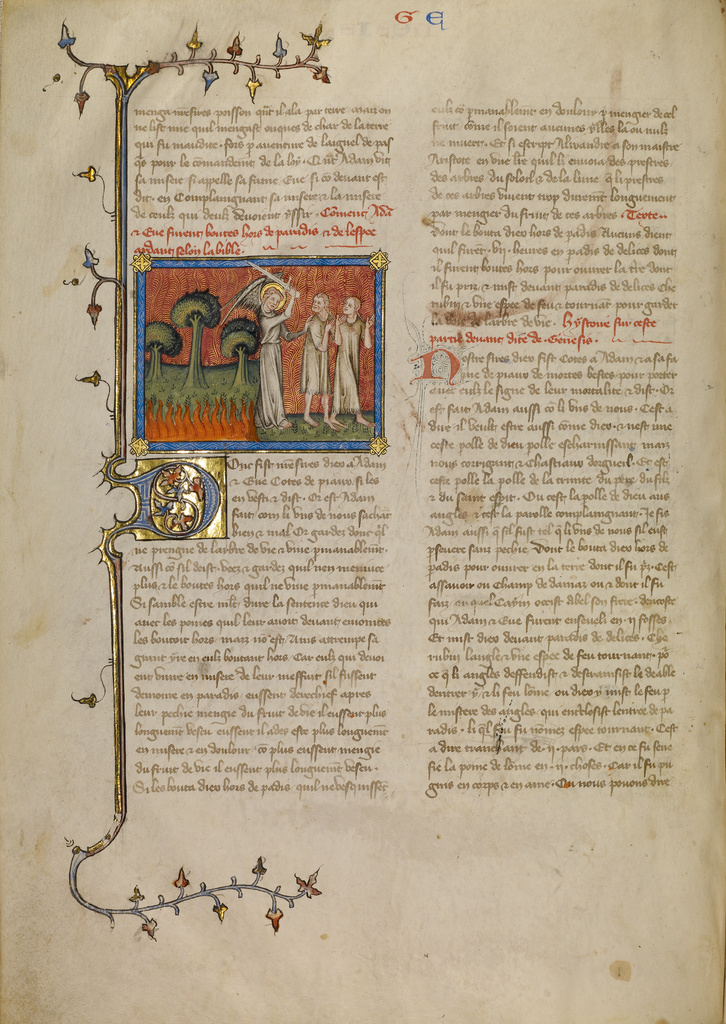 Open Content images tend to be large in file-size. To avoid potential data charges from your carrier, we recommend making sure your device is connected to a Wi-Fi network before downloading.
Not currently on view
Title:
The Expulsion from Paradise
Place:
Paris, France (Place created)

Medium:
Tempera colors, gold, and ink on parchment
Dimensions:
Leaf: 34.9 x 26 cm (13 3/4 x 10 1/4 in.)
And the Lord God sent [Adam] out of the paradise of pleasure, to till the earth from which he was taken . . . and placed before the paradise of pleasure cherubim, and a flaming sword, turning every way. (Genesis 3:24)

Dressed in rough clothing, Adam and Eve are driven from the garden of Eden by an angel who menacingly raises a sword. The artist transferred the flames mentioned in the text from the sword to Eden itself: a wall of fire extends the length of the garden, effectively destroying any hope of reentry. The decorative red background of the miniature picks up the color of the flames, emphasizing the tone of anger evident in the story.
The Art of Giving in the Middle Ages (November 21, 2000 to February 4, 2001)
The J. Paul Getty Museum at the Getty Center (Los Angeles), November 21, 2000 to February 4, 2001
Stories to Watch: Narrative in Medieval Manuscripts (February 22 to May 15, 2011)
The J. Paul Getty Museum at the Getty Center (Los Angeles), February 22 to May 15, 2011
---