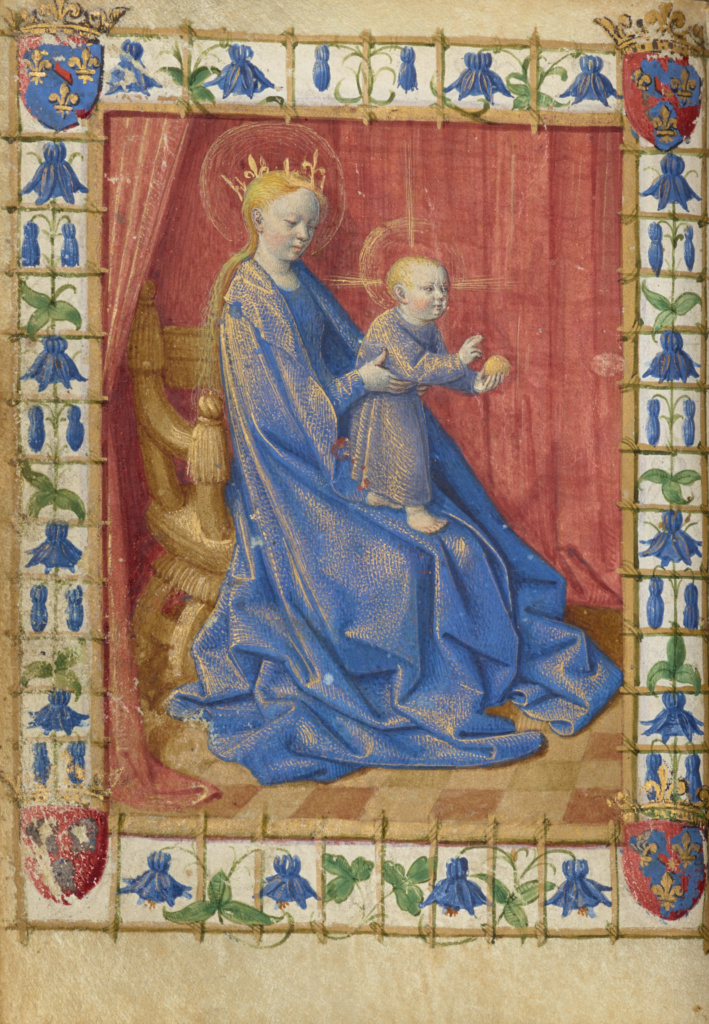 The Virgin and Child Enthroned

Jean Fouquet (French, born about 1415 - 1420, died before 1481) Leaf: 11.4 x 8.3 cm (4 1/2 x 3 1/4 in.) Ms. 7, fol. 1v
Open Content images tend to be large in file-size. To avoid potential data charges from your carrier, we recommend making sure your device is connected to a Wi-Fi network before downloading.
This image is available for download, without charge, under the Getty's Open Content Program.
null
Title:
The Virgin and Child Enthroned
Artist/Maker(s):
Jean Fouquet (French, born about 1415 - 1420, died before 1481)
Place(s):
Paris France Tours France (Place created)
Medium:
Tempera colors, gold paint, gold leaf, and ink on parchment
Dimensions:
Leaf: 11.4 x 8.3 cm (4 1/2 x 3 1/4 in.)
Credit Line:
Partial gift of Gerald F. Borrmann
In the second frontispiece image of this book of hours, the Virgin Mary and Jesus sit enthroned. On the facing page, the manuscript's patron Simon de Varie kneels in homage. Together these two miniatures function like a diptych, a two-part hinged altarpiece. The image of Varie in prayer before the Virgin testifies to his personal devotion to her. It is also particularly appropriate as an introduction to Varie's personal book of hours, for in reciting his prayers he pays homage to the Virgin, much as he is pictured in prayer before her.

Jean Fouquet's simple presentation gives this scene its grandeur. The Virgin and Child sit in three-quarter profile in a room defined only by its receding tile floor and deep red curtains. The Virgin's long golden hair, fine facial features, and narrow shoulders give her a youthful and delicate appearance, drawing on the contemporary ideal of female beauty. On the other hand, her erect posture and the fullness of her expansive robe convey a regal and powerful presence. Fouquet enlivened the dominant colors--shades of blue for the Virgin and Child's gowns and red for the wall hangings--with shimmering gold highlights.
French Illuminated Manuscripts (July 17 to October 6, 1985)
The J. Paul Getty Museum, (Malibu), July 17 to October 6, 1985
Illuminated Books of Hours (July 22 to October 3, 1986)
The J. Paul Getty Museum, (Malibu), July 22 to October 3, 1986
Illuminated French Manuscripts of the Later Middle Ages (October 20, 1987 to January 3, 1988)
The J. Paul Getty Museum, (Malibu), October 20, 1987 to January 3, 1988
Vie a mon desir: Illuminated Manuscripts and Their Patrons (April 18 to July 2, 1989)
The J. Paul Getty Museum, (Malibu), April 18 to July 2, 1989
Recent Acquisitions of Illuminated Manuscripts, 1984-1989 (July 17 to September 30, 1989)
The J. Paul Getty Museum, (Malibu), July 17 to September 30, 1989
Quand la Peinture était dans les Livres (October 16, 1993 to January 30, 1994)
Bibliothèque nationale de France, (Paris), October 16, 1993 to January 30, 1994
Fouquet's Century: Transformations in French Painting, 1415-1530 (April 26 to July 10, 1994)
The J. Paul Getty Museum, (Malibu), April 26 to July 10, 1994
Ten Centuries of French Illumination (April 23 to July 7, 1996)
The J. Paul Getty Museum, (Malibu), April 23 to July 7, 1996
Masterpieces of Medieval and Renaissance Manuscript illumination (December 16, 1997 to March 22, 1998)
The J. Paul Getty Museum at the Getty Center, (Los Angeles), December 16, 1997 to March 22, 1998
Faces of Power and Piety: Portraits in Medieval and Renaissance Manuscripts (February 2 to April 18, 1999)
The J. Paul Getty Museum at the Getty Center, (Los Angeles), February 2 to April 18, 1999
Illuminating Color (May 22 to August 26, 2001)
The J. Paul Getty Museum at the Getty Center, (Los Angeles), May 22 to August 26, 2001
The Medieval Best Seller: Illuminated Books of Hours (October 29, 2002 to January 19, 2003)
The J. Paul Getty Museum at the Getty Center, (Los Angeles), October 29, 2002 to January 19, 2003
Jean Fouquet (March 24 to June 22, 2003)
Bibliothèque nationale de France, (Paris), March 24 to June 22, 2003
Shrine and Shroud: Textiles in Illuminated Manuscripts (June 28 to October 2, 2005)
The J. Paul Getty Museum at the Getty Center, (Los Angeles), June 28 to October 2, 2005
A Masterpiece Reconstructed: The Hours of Louis XII (October 18, 2005 to May 1, 2006)
The J. Paul Getty Museum at the Getty Center, (Los Angeles), October 18, 2005 to January 8, 2006
French Manuscript Illumination in the Middle Ages (January 23 to April 15, 2007)
The J. Paul Getty Museum at the Getty Center, (Los Angeles), January 23 to April 15, 2007
Faces of Power and Piety: Portraiture in the Middle Ages and Renaissance (August 12 to October 26, 2008)
The J. Paul Getty Museum at the Getty Center, (Los Angeles), August 12 to October 26, 2008
---