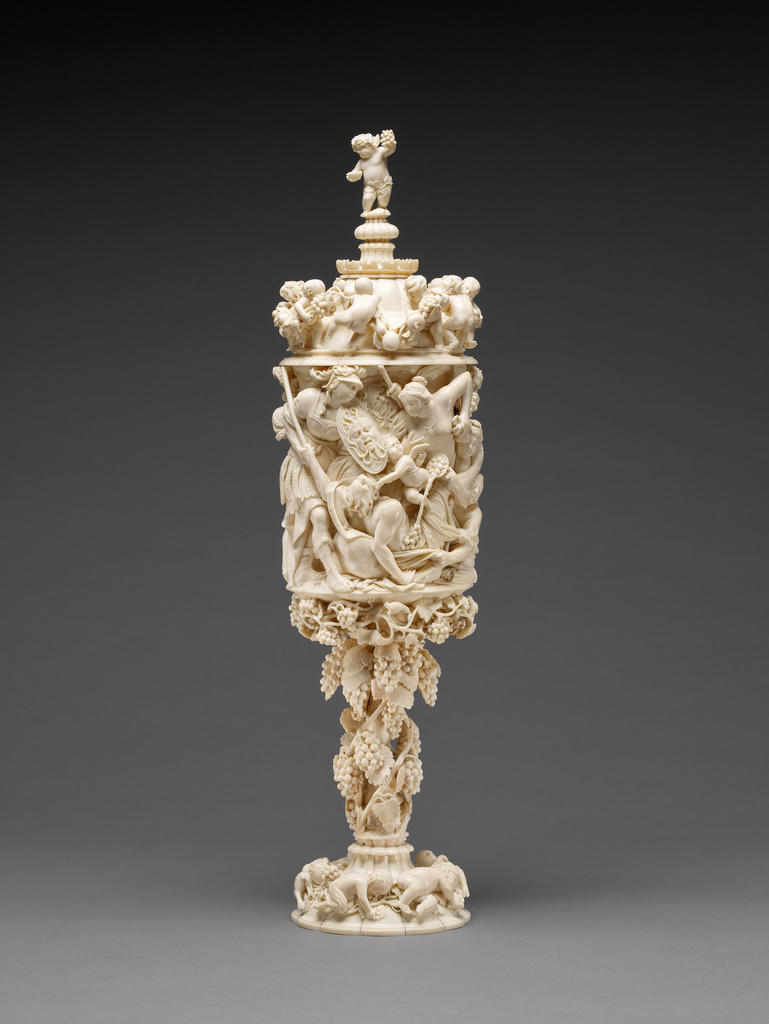 Open Content images tend to be large in file-size. To avoid potential data charges from your carrier, we recommend making sure your device is connected to a Wi-Fi network before downloading.
This image is available for download, without charge, under the Getty's Open Content Program.
Currently on view at: Getty Center, Museum North Pavilion, Gallery N102
Place(s):
Germany (now Austria) (Place created)
Seemingly unaware of the activity all around him, a youth supine is the focus of gods; some tease and tempt him with pleasurable offerings, while others guide him toward prudence. Minerva, the goddess of wisdom, grasps his left hand urging him toward virtuous restraint. The god of wine, Bacchus, pours wine onto the young man to arouse his desires. Cupid, the tiny child-god of love, directs the youth's face toward his mother Venus who presses her right breast, emblematic of sybaritic pleasures.

The entire surface of the vessel is carved and showcases the technical virtuosity of its maker, Balthasar Griessmann. This ivory specialist skillfully moved between different degrees of relief: from figures fully sculpted in three-dimensions to extremely shallow passages. Floral Bacchic motifs cover the lid, base, and stem of the vessel. Putti bearing fruit-laden garlands cavort around the lid, which is surmounted at the pinnacle with a single putto brandishing a cup in one hand and a bunch of grapes in the other. At the base lie recumbent drunken putti and satyrs.

Griessmann faithfully derived the goblet's composition from a work by Otto van Veen, Allegory of the Temptations of Youth, known to the carver from a print by Antwerp artist Pieter Perret. Griessmann cunningly puts the allegory in the hands of the imbiber, who--like the youth--should consider the balance of indulgence with moderation. The virtuosity of the piece is such that it was most likely displayed at courtly banquets--a showpiece, to be viewed and admired, rather than utilized.
---