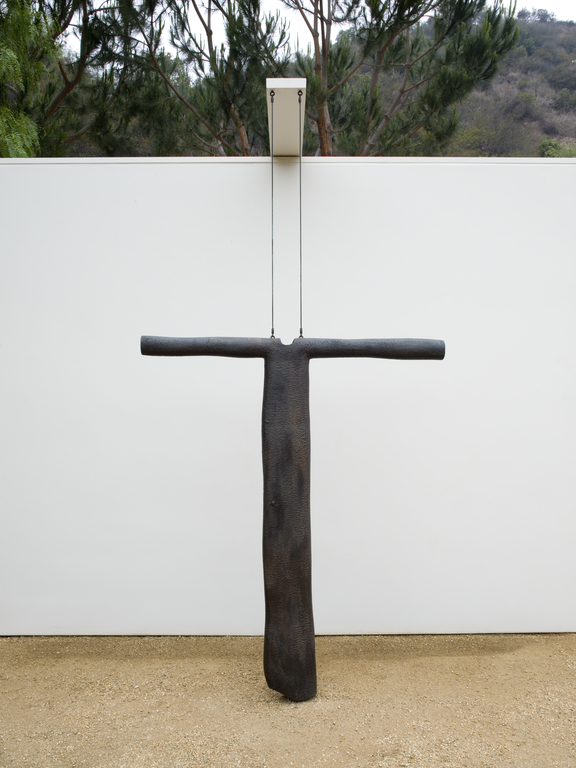 bronzenightshirt

Peter Shelton (American, born 1951) 179.7 x 152.4 x 11.1 cm, 83.9154 kg (70 3/4 x 60 x 4 3/8 in., 185 lb.) 2005.121
Currently on view at: Getty Center, Tram Departure Plaza, The Fran and Ray Stark Sculpture Garden
Dimensions:
179.7 x 152.4 x 11.1 cm, 83.9154 kg (70 3/4 x 60 x 4 3/8 in., 185 lb.)
Credit Line:
Gift of Fran and Ray Stark
Tautly suspended from two cables, this slender bronze form hangs rigidly just off the ground. The form's vertical orientation and outstretched "arms" suggest a human figure. But the work conspicuously lacks elements that would imply a head, hands, or feet. Further, while from afar the sculpture's bronze patina appears smooth, it is in fact pocked and striated, more akin to the skin of a scaly reptile than a human.

Peter Shelton often titles his work with letters that run together without spaces or upper case distinctions. This technique encourages the viewer to consider words and letters in new ways. The title of this sculpture suggests that it represents an outer garment or covering for a figure rather than a figure itself. The bronze's hollow form supports such a reading. But the work's figural appearance and scale equally encourages the viewer to consider how his or her own proportions, position, and weight relate to the dark, ghostly form before them.
---