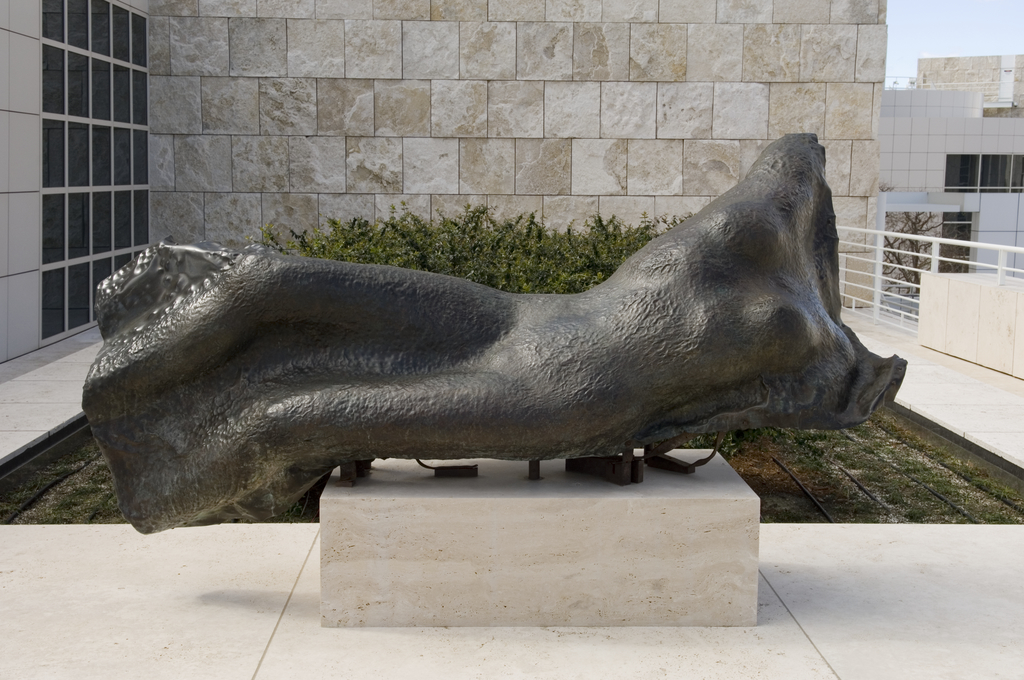 Currently on view at: Getty Center, Museum South Pavilion, Terrace
Dimensions:
130.2 × 259.1 × 71.1 cm, 69.4003 kg (51 1/4 × 102 × 28 in., 153 lb.)
Credit Line:
Gift of Fran and Ray Stark
The Night is not merely sleeping and perhaps dreaming, for sleep is an approach to death. The body in sleep sinks under its own weight. My night is conceived as a state of creativeness. It is the period when subconsciously the human joins with nature's forces, and lives as a tree, a flower, or an insect.
--Saul Baizerman

This reclining female figure suggests stillness and movement, fragility and strength. The oversized nude conveys mass and weight, but it is in fact a slender sheet of hammered copper supported by an iron armature. The substantial presence of the form is also undermined by the marked absence of head and neck, arms and feet. Finally, the textured, irregular copper surface, an indelible record of the artist's hammering, also animates the figure's sensual curving form.

Saul Baizerman executed a pair of large female nudes entitled Night and Day. Night alludes to the work of Michelangelo--in particular, a marble figure of Night from the tomb of Giuliano de' Medici in Florence created in the early 1500s.
---