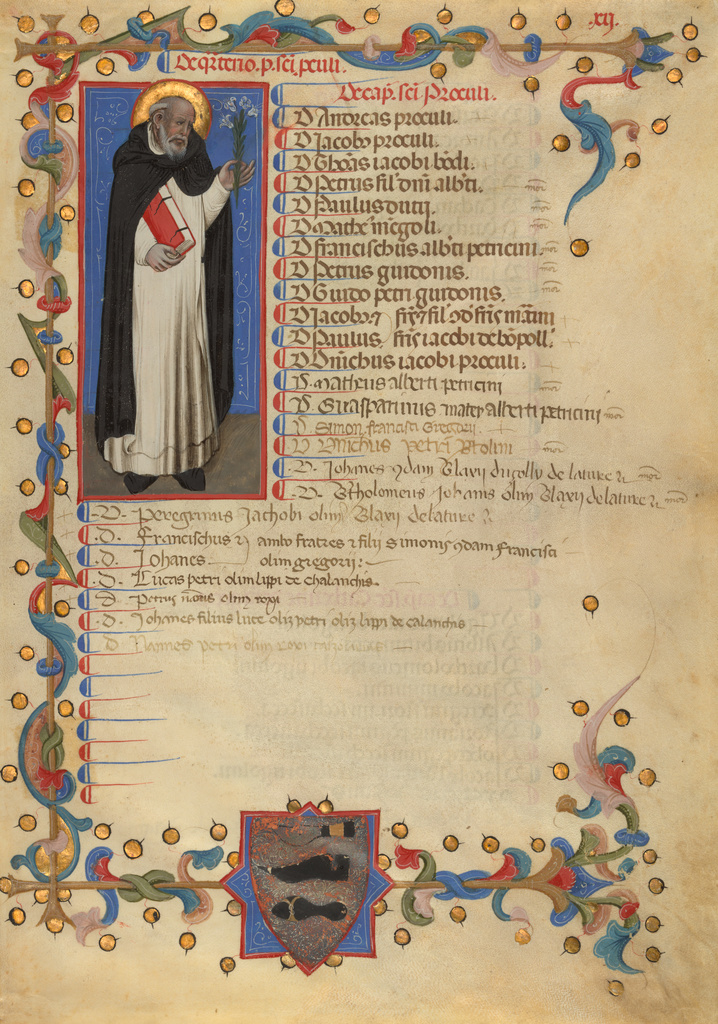 Open Content images tend to be large in file-size. To avoid potential data charges from your carrier, we recommend making sure your device is connected to a Wi-Fi network before downloading.
Place:
Bologna, Italy (Place created)

Medium:
Tempera and gold on parchment
Dimensions:
Leaf: 35 x 24.5 cm (13 3/4 x 9 5/8 in.)
This leaf registers the names of all the members of the shoemaker's guild in the neighborhood of San Procolo in Bologna, the area where the leaf's artist lived. The bottom of the page contains the coat of arms of the guild with a leather-cutting tool, a shoe, and a sandal. At the top left, the artist depicted a massive, imposing figure of Saint Dominic. The weighty presence of Dominic sets off his sensitive, expressive face and the delicate manner in which he holds a bunch of lilies. Dominic was included on this leaf because the neighborhood of San Procolo included the parish of the church of San Domenico. The artist, Niccolò da Bologna, was active in local government and had an official job as the city illuminator. In that capacity he illuminated guild registers like this one.
The Bernard H. Breslauer Collection of Manuscript Illuminations (December 9, 1992 to April 4, 1993)
The Morgan Library & Museum (New York), December 9, 1992 to April 4, 1993
Masterpieces in Miniature: Italian Manuscripts from the Middle Ages and Renaissance (March 29 to June 12, 2005)
The J. Paul Getty Museum at the Getty Center (Los Angeles), March 29 to June 12, 2005
Masterpieces in Miniature: Italian Manuscript Illumination from the J. Paul Getty Museum (September 25, 2005 to January 2, 2006)
National Gallery of Art (Washington, D.C.), September 25, 2005 to January 2, 2006
Miracles and Martyrs: Saints in the Middle Ages (August 29, 2013 to March 2, 2014)
The J. Paul Getty Museum at the Getty Center (Los Angeles), August 29, 2013 to March 2, 2014
---