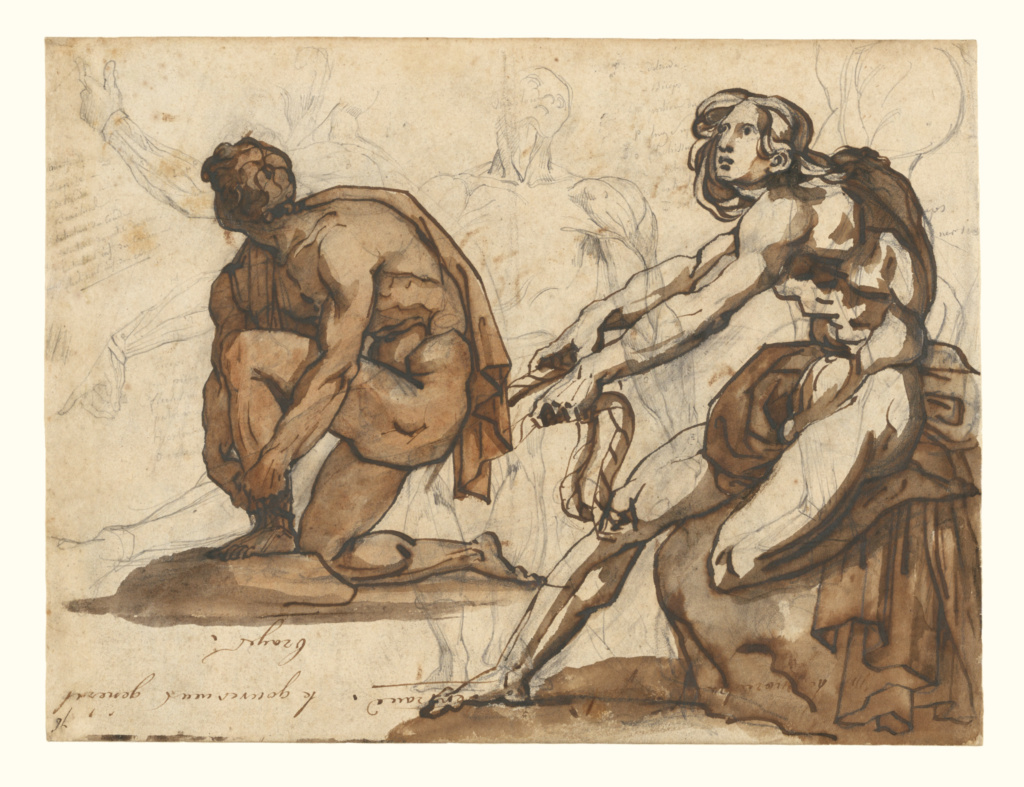 Open Content images tend to be large in file-size. To avoid potential data charges from your carrier, we recommend making sure your device is connected to a Wi-Fi network before downloading.
Not currently on view
Title:
Classical Nudes (recto); Classical Statuary (verso)
Medium:
Graphite, pen and brown ink, and brown wash
Dimensions:
21.3 × 28.4 cm (8 3/8 × 11 3/16 in.)
Théodore Géricault relied only on broad outlines and richly applied washes to produce the muscular bodies of these two nudes. He reused a sheet covered with pencil drawings, creating new, more powerful forms that contrast linearity with volume. He may have sketched them at the École des Beaux-Arts in Paris, where he copied antique statues for practice.

The figures on the verso are less inventive and more orderly, arranged in two neat rows. Using pen and ink to cover older pencil drawings of studies of heads, Géricault again copied antique statues, including several in classical armor as well as the figures of Cupid and Psyche. Most of these figures are simple outlines, while others have a delicately applied wash.
-
Hans Eduard Bühler, 1893 - 1967
November 15, 1985
Christie's (London), lot 39
Theodore Géricault, 1791 - 1824 (August 30 to November 8, 1953) (124; catalogue by P. Dubaut and G. Jedlicka)
Winterthur Museum, Garden, and Library (Winterthur), August 30 to November 8, 1953
Géricault: Romantic Paintings and Drawings (January 28 to March 26, 1989) (recto)
California Palace of the Legion of Honor (San Francisco), January 28 to March 26, 1989
Gericault (October 10, 1991 to January 6, 1992) (7; recto)
Galeries nationales du Grand Palais (Paris), October 10, 1991 to January 6, 1992
The Power of Myth: European Mythological Drawings of the 15th through the 19th Century (October 12 to December 26, 1993)
The J. Paul Getty Museum (Malibu), October 12 to December 26, 1993
Classicism and Neoclassicism in French Drawing, 1600-1860 (October 25, 1994 to January 8, 1995)
The J. Paul Getty Museum (Malibu), October 25, 1994 to January 8, 1995
Beyond Beauty: Antiquities as Evidence (December 16, 1997 to January 17, 1999) (verso)
The J. Paul Getty Museum at the Getty Center (Los Angeles), December 16, 1997 to January 17, 1999
The Body Beautiful: Artists Draw the Nude (1440 - 1880) (December 14, 1999 to February 27, 2000) (recto)
The J. Paul Getty Museum at the Getty Center (Los Angeles), December 14, 1999 to February 27, 2000
A Revolutionary Age: Drawing in Europe, 1770-1820 (January 18 to May 1, 2005) (recto)
The J. Paul Getty Museum at the Getty Center (Los Angeles), January 18 to May 1, 2005
The Poetry of Paper (July 23 to October 20, 2013) (recto)
The J. Paul Getty Museum at the Getty Center (Los Angeles), July 23 to October 20, 2013
---