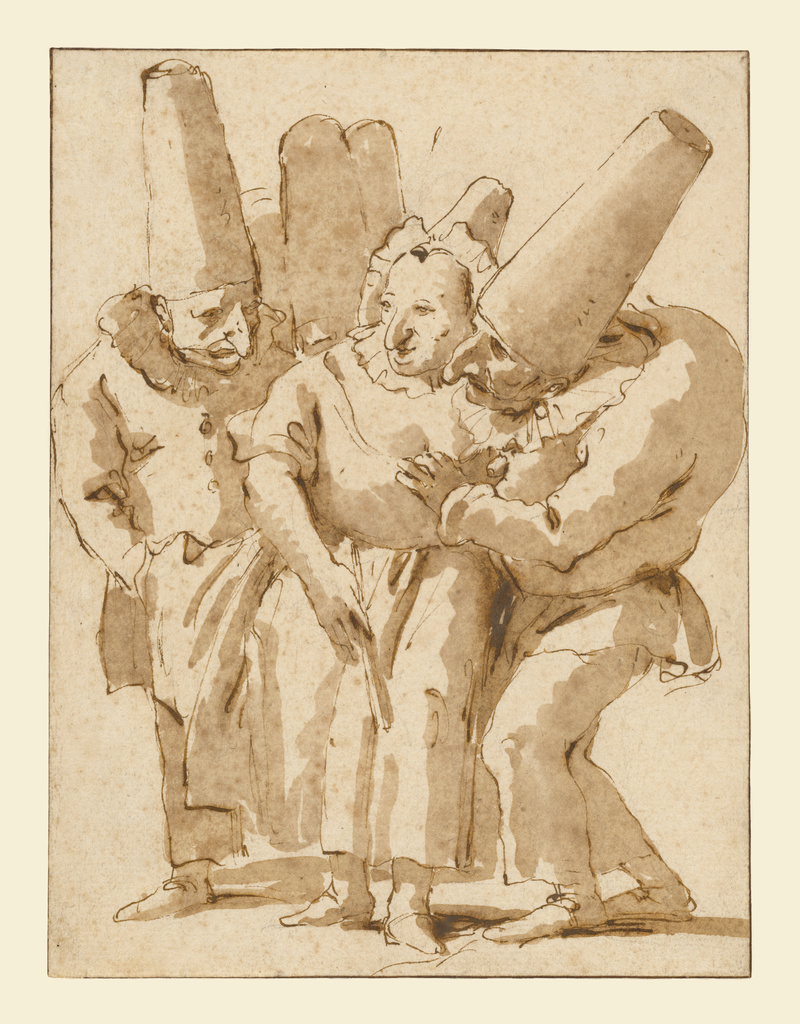 Open Content images tend to be large in file-size. To avoid potential data charges from your carrier, we recommend making sure your device is connected to a Wi-Fi network before downloading.
Not currently on view
Title:
Punchinellos Approaching a Woman
Medium:
Pen and brown ink and brush with brown wash over black chalk
Dimensions:
18.4 × 14 cm (7 1/4 × 5 1/2 in.)
Object Description
Two punchinellos--masked hunchbacks dressed in white suits and tall hats--accost a drunken woman. One punchinello leans into and leers at the woman; the other lifts her long skirt from behind. Two other punchinellos lurk behind the woman, only their hats visible. Like the punchinellos, the woman sports an elaborate hat and a beaklike nose. She has perhaps been mistaken for a kindred, and compliant, spirit.

The character of Punchinello, and his similarly dressed companions, first appeared in Italian theater in the 1600s. His buffoonery and ribald behavior made him an immensely popular figure in Venetian street performances. His Italian name, Pulcinella, suggests that Punchinello's family tree included chickens, an ancestry confirmed by his beaklike nose.

Here, Giovanni Battista Tiepolo has depicted the punchinellos on an especially lascivious and even sinister outing. Tiepolo produced more than twenty punchinello drawings, and they were most likely made as independent works for collectors rather than studies for paintings or prints.
Exhibitions
Light and Water: Drawing in Eighteenth-Century Venice (May 17 to August 21, 2005)
The J. Paul Getty Museum at the Getty Center (Los Angeles), June 1 to August 22, 2004
Ten Years of Drawings: What, How, and Why (January 29 to May 4, 2008)
The J. Paul Getty Museum at the Getty Center (Los Angeles), January 29 to May 4, 2008
A Light Touch: Exploring Humor in Drawing (September 23 to December 7, 2008)
The J. Paul Getty Museum at the Getty Center (Los Angeles), September 23 to December 7, 2008
---