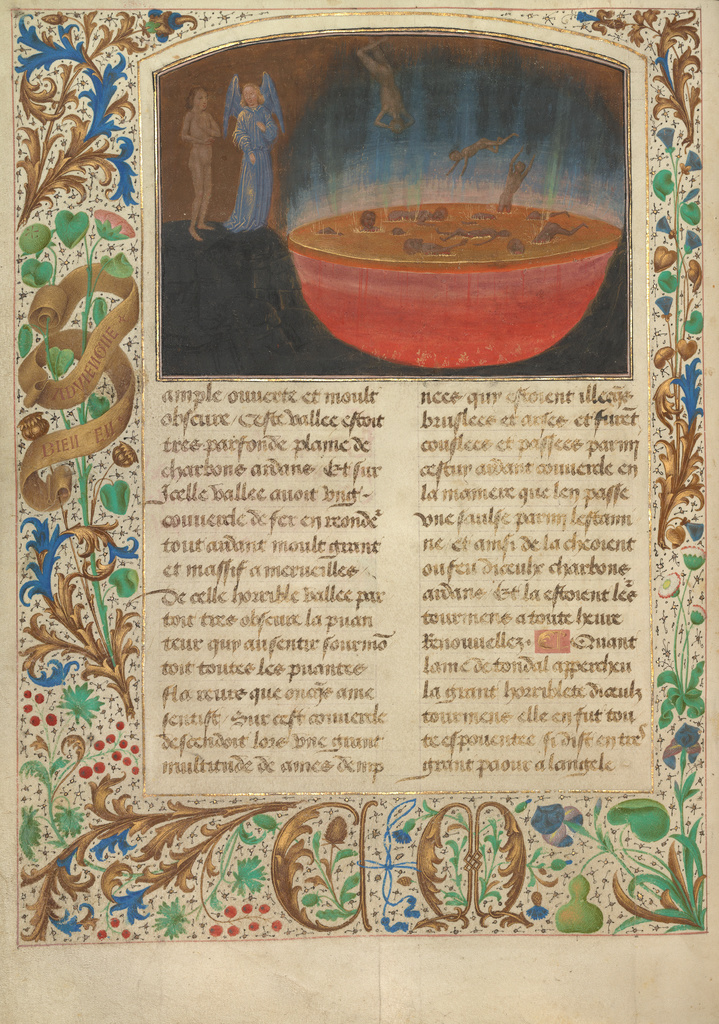 Open Content images tend to be large in file-size. To avoid potential data charges from your carrier, we recommend making sure your device is connected to a Wi-Fi network before downloading.
Place:
Ghent Belgium Valenciennes France (Place created)

Medium:
Tempera colors, gold leaf, gold paint, and ink on parchment
The angel first shows Tondal's soul the torment reserved for murderers. Those who have killed people are repeatedly burned, roasted, then liquefied and strained into a cauldron of burning coals. The illuminator here depicted the murderers falling into the pot of boiling liquid.
Illuminated Flemish Manuscripts of the Late Middle Ages (July 26 to October 16, 1988)
The J. Paul Getty Museum (Malibu), July 26 to October 16, 1988
"The Visions of Tondal" and Manuscripts from the Time of Margaret of York (April 17 to July 1, 1990)
The J. Paul Getty Museum (Malibu), April 17 to July 1, 1990
Illuminating the Renaissance: The Triumph of Flemish Manuscript Painting in Europe (June 17, 2003 to February 22, 2004)
The J. Paul Getty Museum at the Getty Center (Los Angeles), June 17 to September 7, 2003
Royal Academy of Arts (London), November 29, 2003 to February 22, 2004
Illuminated Manuscripts from Belgium and the Netherlands (August 24, 2010 to February 6, 2011)
The J. Paul Getty Museum at the Getty Center (Los Angeles), August 24, 2010 to February 6, 2011
---